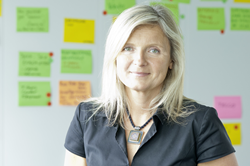 "I'm passionate about bringing the power of digital activation with EVRYTHNG to brands and supply chain partners across Europe — protecting brand integrity with end-to-end traceability and opening a new channel for direct-to-consumer trust and engagement," said Fabienne Le Tadic, EVRYTHNG, GM Europe
LONDON, and NEW YORK (PRWEB) June 12, 2019
EVRYTHNG, the IoT platform that activates every consumer product to make it intelligent, interactive and trackable, today announced former SICPA executive director, Fabienne Le Tadic has joined the company as General Manager Europe, reporting to CEO & co-founder Niall Murphy. Fabienne brings three decades of experience helping consumer brands and large enterprises harness the power of digital technologies. Fabienne will scale and lead the team driving EVRYTHNG's rapidly expanding European business.
"We are experiencing an exciting inflection point with consumer product brands connecting their products to the web at mass scale as a core part of their digital transformation, providing visibility and intelligence across the product lifecycle and connecting brands directly with their consumers," said Niall Murphy, CEO & co-founder, EVRYTHNG. "The addition of Fabienne to EVRYTHNG's executive team brings a depth of knowledge and hands-on experience needed to maximize our ability to bring value to and meet the needs of European consumer product brand owners and supply chain service providers."
"I've led the digital transformation of companies big and small in previous roles. To now have the opportunity to help consumer product brands embrace an era of digital transformation from the other side — as part of EVRYTHNG team — is the perfect next challenge," said Fabienne Le Tadic, General Manager Europe, EVRYTHNG. "I'm passionate about bringing the power of digital activation with EVRYTHNG to brands and supply chain partners across Europe — protecting brand integrity with end-to-end traceability and opening a new channel for direct-to-consumer trust and engagement. Every consumer product brand needs EVRYTHNG."
Fabienne's experience cuts across industries having led teams and digital initiatives for Nestle, Constellium and most recently, SICPA where she was executive director for global brand protection and digital business innovation. Fabienne has consistently brought three factors to her leadership: people empowerment, a systematic focus on quality interfaces, and a strong, market-driven vision.
"My passion and energy are rooted in my desire to inspire people and organizations to visualize and ultimately, realize their maximum potential," said Le Tadic.
EVRYTHNG is at the forefront of industry development and innovation. A 2018 World Economic Forum (WEF) Technology Pioneer, EVRYTHNG is actively engaged in efforts to advance global collaboration on the Fourth Industrial Revolution with an emphasis on digitization of products with digital identity in the cloud, sustainable production, the blockchain and the application of machine learning and adaptive analytics with product lifecycle data at scale. A true industry innovator, EVRYTHNG co-chaired the GS1 Digital Link working group that has released a standard to upgrade the world's barcodes and give every product a web address, pioneered web of things standards with the World Wide Web Consortium, and continues to work with the Blockchain Research Institute (BRI) and World Economic Forum to develop scalable applications of blockchain technology in the consumer product supply chain.
About EVRYTHNG
EVRYTHNG is the market leading Internet of Things SaaS platform for consumer products, managing billions of unique digital identities in the cloud. Brands and their service providers work with EVRYTHNG to apply data science intelligence on an item-by-item basis, drive new digital applications, gain visibility into supply chains and engage with their customers. EVRYTHNG led the creation of the new GS1 industry standards that have upgraded the world's barcodes and product tags to connect every product to the web. Learn more at: https://evrythng.com and @EVRYTHNG.