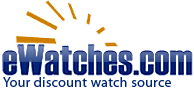 The primary focus of our website redesign is to make the site more user friendly. We guarantee 100% satisfaction to all of our customers and that includes the shopping experience as well as the product itself.
Hollywood, FL (PRWEB) July 12, 2012
Leading online watch retailer, eWatches.com, this month launched the redesign of their new website. The new visual identity is a breakaway from the former blue and yellow saturated look that shoppers were familiar with. In its place, a sleek, fresh and modern design that is making a splash with eWatches' discount designer watch loving consumers.
According to an eWatches spokesperson, the primary objective of the new fresh face design is to make the website more user friendly, thereby ensuring a better shopping experience for their ever expanding customer base. Shoppers can now log on and navigate more easily through the site with key features like choosing the category from which they would like to shop. Indeed, shoppers can opt to shop by price, by brand, top sellers and gender. Furthermore, any questions or queries customers have can be assisted by a sales assistant at the click of a button with their new live interactive chat feature. Other highlights include price and feature comparisons.
As well as brand new features, the updated website is also packed with brand new discount designer watch arrivals for a stylish, hot summer. Shoppers can log on now and choose from the best in watch couture at discounted prices that feature prices discounted by up to 92% off the recommended retail price. eWatches holds a collection of over 100 name brands including Invicta, Breitling, Lucien Piccard and a whole lot more so there is always something to suit every taste and budget.
eWatches is fast becoming the go-to online retail destination for designer watch connoisseurs. The retailer's core philosophy is to provide their customers with the finest designer watches at a price point that cannot be beat, thereby providing the best quality at the lowest prices. It is this leading principle that sets them apart from the rest. And now, with the new improved website design, eWatches is furthering its mission to stay one step ahead from the discount designer watch competition.
There are many reasons to shop with eWatches including great prices, quality products, and more.
About eWatches
eWatches.com is an award-winning website that has been selling watches to tens of thousands of satisfied customers since 2003. In both 2007 and 2008, Inc. Magazine selected eWatches.com as one of America's 500 Fastest Growing Companies in its annual Inc. 500 list. eWatches gives customers a superior shopping experience with:

Free Shipping on all domestic orders
100% Satisfaction Guarantee
Low Price Guarantee
30 Day Money Back Guarantee
To get information on great deals and promotions, follow eWatches on Facebook and Twitter at 'ewatchescom'.