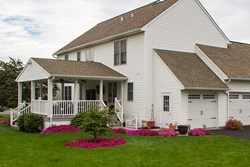 Attending the West Lampeter Fait
Leola, Pa (PRWEB) September 25, 2013
Eagle Wings Business Network, an expert in outdoor living serving the Philadelphia and Central Pennsylvania regions, is pleased to announce their participation in the West Lampeter Community Fair, Wednesday through Friday, Sept. 25th through Sept. 27th. The community fair is located at 851 Village Road in Lampeter PA. Reuben Stolzfus, owner of EWBN, has dedicated his career to building outdoor living structures and facilities for families and businesses. Customers have stated they are the best in the industry.
The West Lampeter Community Fair will feature examples of their fine work such as a deck, patio, variety of landscaping, outside fireplace and an outdoor kitchen.
EWBN cordially invites you to visit their display and discuss your outdoor living needs.
For information concerning time, directions and events at the fair visit http://www.westlampeterfair.com. Or contact Judi at info(at)ewbn(dot)net.
Media Contact
Reuben Stolzfus
info(at)ewbn(dot)net
717-556-0741
http://www.ewbn.net