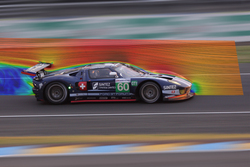 We could never have gathered the level of detailed data from our physical tunnel tests that we did from our Exa PowerFLOW simulations.
Burlington, MA (PRWEB) June 22, 2010
Exa® Corporation, a global innovator of fluids simulation (CAE/CFD) solutions for product engineering, today announced that its PowerFLOW® software helped MATECH Competition of Switzerland to aerodynamically optimize their Ford GT1. This new and more efficient MATECH racecar won the first race in the 2010 FIA GT1 World Championship series of worldwide races.
Disappointed with their 2009 vehicle's drag results at high speeds, MATECH decided to explore simulation in addition to their physical wind tunnel testing and chose Exa's PowerFLOW. "Exa's got a fantastic industry reputation as the company to work with to aerodynamically optimize your vehicle," remarked MATECH's Chief Race Engineer, José Santos. "We could never have gathered the level of detailed data from our physical tunnel tests that we did from our Exa PowerFLOW simulations." Santos continued, "To compare numerical data and be able to visualize tiny flow structure changes from run to run made the difference in our modification decisions."
Before the 2010 regulations were even released, MATECH was working on their GT1. "Our 2010 Ford GT1 is completely new," said Thomas Mutch, Driver and Operations Manager for MATECH. "We were committed to implementing advanced technology to overhaul our vehicle and ensure we put the best possible racecar on the track. Exa exceeded our expectations and surprised us with the speed in which we could perform fully complex simulations. Their services group is deep with expertise, and we came to rely on them as extended engineering team members. Exa PowerFLOW allowed us to explore and improve the aerodynamics of our car from every angle and evaluate the impact of every detail."
Exa's services team and MATECH engineers rallied to perform runs quickly to enable time for vehicle changes prior to the first GT1 race. Dr. Axel Fischer, Technical Manager for Exa Corporation commented, "Although we explored the entire vehicle, we started with the under body, air intakes, wheels and wheel houses where we often find drag inducing vehicle structures that are nearly impossible to see in physical tests. Working with the MATECH engineers, we identified areas of opportunity and suggested modifications—the result was a winning racecar."
About Exa Corporation
Exa Corporation develops, markets, and supports a suite CAE and CFD simulation software tools including PowerFLOW, PowerDELTA® PowerCLAY®, PowerVIZ®, PowerSPECTRUM®, PowerACOUSTICS™, PowerCOOL® and PowerTHERM® along with professional engineering consulting services. Exa's products and services enable engineers to create competitive designs, while shortening product design cycles, and speeding time-to-market. A partial customer list includes: AGCO, BMW, Chrysler, Ford, Hyundai, Kenworth, MAN, Nissan, Peterbilt, Renault, Scania, Toyota, Volkswagen, and Volvo Trucks.
Founded in 1991, the company is headquartered at 55 Network Drive, Burlington, MA, USA 01803. Tel: 1.781.564.0200; Fax: 1.781.564.0299
For more information about Exa Corporation or images please contact:
Michelle Murray-Ross, Exa Corporation, 1.781.564.0251
Exa, PowerFLOW, PowerCLAY, PowerTHERM, PowerCOOL, PowerSPECTRUM and PowerVIZ are registered trademarks and PowerACOUSTICS is a trademark of Exa Corporation.
###