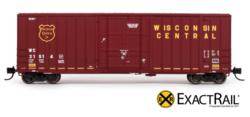 All of our models, including the Gunderson High Cube, are intricately detailed using precision micro-tooling techniques.
Provo, Utah (PRWEB) November 04, 2012
ExactRail, a company that specializes in authentically detailed model railroad products, has released the Gunderson 6269 High Cube Box Car. The N-Scale model train car is a detailed replica of the modern-day box cars often referred to as "paper boxes" because they ship paper products.
"We are excited to release a paper box model as part of our growing N-Scale line," said Blaine Hadfield, product vice president for ExactRail. "All of our models, including the Gunderson High Cube, are intricately detailed using precision micro-tooling techniques. The models are designed and engineered in our Utah facilities to offer the highest levels of quality craftsmanship."
After a decline in the development of box cars, this car made a comeback in the mid-1990s when Gunderson, a Portland-based freight car manufacturer, found that it was an ideal solution for the shipment of paper products. Other builders, including Trinity and Trenton-Works, followed suit by developing competitive box car models.
The cars are known for their modern aesthetic, with smooth interior walls ideal for the loading and unloading of paper products. The cars include a Stanray Redi-Roof and 12-foot doors. The model is available with five different railroad company names including Wisconsin Central, IBT, Illinois Central, BNSF and Burlington Northern.
ExactRail developed the model in five true-to-life paint schemes with highly accurate lettering styles and logotypes. Multiple road numbers are also available. Additional features include:

CNC-machined metal wheel sets with metal axles.
Factory installed Micro-Trains No. 1015 couplers.
Equalized 100-ton American Steel Foundries (ASF) ride control trucks.
Narrow-style body mounted draft box with shank wedges, striker casting and full nut and details.
The new models are in stock and available at a discounted price of $22.95. Models may be purchased directly from the ExactRail website at: http://www.exactrail.com/model-trains?product_type=2622&scale=151.
About ExactRail
ExactRail is a leader in precision micro-tooling in model railroading. ExactRail offers engaging products with acute attention to detail and accuracy, setting a new standard for innovation and quality in the industry. Formed in 2008, the company continues to introduce a wide variety of new and innovative products. For more information or to purchase ExactRail models visit exactrail.com.