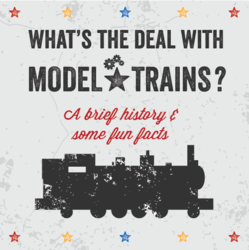 People are fascinated by trains and the important role they've played in the history and advancement of society.
Provo, Utah (PRWEB) June 21, 2012
First created as a way to promote locomotive transportation to those who had not seen trains before, recent surveys show that today model trains are more popular than ever. Even celebrities like Tom Hanks, Bruce Springsteen and Michael Jordan are passionate about model railroading, according to Blaine Hadfield, a spokesman for ExactRail, a company that specializes in authentically detailed model railroad products.
Click here to view a new infographic from ExactRail that combines history and fun facts to show why model trains are a popular hobby.
"People are fascinated by trains and the important role they've played in the history and advancement of society," said Hadfield. "Not only is it a fun hobby, but it's also incredibly educational."
The introduction of the first steam train, as a form of transportation in the early 1800s, paved the way for model railroading as a popular hobby today. Model trains in the 1950s began moving from being simply toy train sets designed for children to intricately detailed equipment geared toward adult collectors.
Anthony Ridenhour, executive director of the San Diego Model Railroad Museum, agreed.
"There is something for everyone. There are many artistic and technical ways you can apply your skills in model railroading," Ridenhour said. "Model railroaders are often highly intelligent people, many with engineering degrees. Many fell in love with railroads and trains in their youth and developed an interest an interest in model railroading from there. They are often passionate about preserving the heritage of rail travel in the U.S. and feel a great sense of ownership in doing that as rail travel has continued to decline over the years."
Baby boomers and families are among the biggest model train enthusiasts, Hadfield said.
Some of the skills people build while participating in model railroading include:

Electric and Carpentry: Building a model railroad teaches everything from sawing wood to stripping wire.
Research and Planning: Researching photographs for ideas, planning how the railroad will be laid out and creating a plan of operation are a few of the skills developed during the research and planning stages.
Engineering: From building bridges to learning how engines work, building a model railroad teaches many basic engineering skills.
History and Geography: Railroad models are often developed to reflect a certain time period and region of the world. For example, rock musician Rod Stewart is an avid model train builder and has created a replica of New York's Grand Central Station in the 1940s. The model features 100 ft of track, with historically correct buildings and figurines dressed for the period.
Art and Visualization: From creating a clear picture for how things should look when completed to incorporating artistic elements, landscaping and scenery all add to the final product.
Beyond the educational value and reward of creating something, model railroading also offers a great social outlet. There are various clubs and conventions that help members learn, share stories and compete in contests.
"[The associations] are a great way to socialize and meet people with similar interests. We are currently hosting four different clubs at the museum. They enjoy meeting and seeing things come together as a collective," Ridenhour said.
About ExactRail
ExactRail is a leader in precision micro-tooling in model railroading. ExactRail offers engaging products with acute attention to detail and accuracy, setting a new standard for innovation and quality in the industry. Formed in 2008, the company continues to introduce a wide variety of new and innovative products. For more information or to purchase ExactRail products visit exactrail.com.