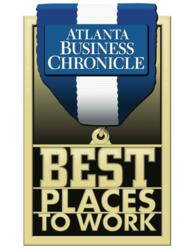 It is such an honor to be included in this prestigious list of Atlanta's best companies.
Atlanta, Ga (PRWEB) September 18, 2012
On September 14th, The Atlanta Business Chronicle hosted their 8th annual Best Places to Work event, where they recognized the successful companies with outstanding employee satisfaction. The award ceremony, a breakfast held at the Georgia Aquarium, was completely sold out as attendees waited anxiously to hear which companies had earned the coveted distinction of being one of the city's top 100 places to work.
ExactSource was proud and excited to be named to the list, and was all the more honored considering the company was launched earlier this year. ExactSource is a Recruitment Process Outsourcing (RPO) firm that helps clients source and place candidates for highly specialized positions. The company was launched in April, by its sister company, Matteson Partners, one of Atlanta's leading Executive Search firms.
"It is such an honor to be included in this prestigious list of Atlanta's best companies," said Katy McDonald, ExactSource's Chief Operating Officer. "As a company dedicated to helping our clients grow their own workforces, we have a real appreciation for how important a positive, nurturing work environment is to a organization's overall success."
ExactSource credits a number of factors for being included in the 2012 list.
"We provide our employees with a place that is both fun to work, and where people's contributions are recognized." Ms. McDonald explained. "With perks like flexible work hours, quarterly employee outings and fun incentives for productivity, we're always striving to create a cohesive and supportive environment."
Each year the Atlanta Business Chronicle, in partnership with Quantum Workplace, surveys the metro area's employers to find those that have discovered how to become one of Atlanta's Best Places To Work. Employees of companies from all over the Greater Atlanta Area participated in an anonymous survey, where they were asked to evaluate their company in various areas such as teamwork, job satisfaction, benefits, retention risk, and manager effectiveness.
About ExactSource
ExactSource is a Recruitment Process Outsourcer that specializes in sourcing, screening and placing candidates for hard to fill positions. The company's web-based technology, ExactPlatform, measures and catalogues over 2500 attributes across 115 skill sets. ExactSource is able to identify and measure a number of key skills that aren't typically identified in a resume. The technology, combined with the ExactSource methodology enables ExactSource to source and fill positions with a better ROI than companies can internally.
For more information about ExactSource and the RPO services they provide, including their ExactPlatform, visit our website, or contact David Schmidt at 678.580.4514 or dschmidt(at)exactsource(dot)com