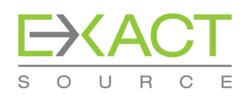 Name our furry mascot and win an IPad 3!!
Atlanta, GA (PRWEB) May 08, 2012
ExactSource is a newly launched, sister company of Matteson Partners, the Atlanta-based executive search firm. As its name implies, ExactSource is a Recruitment Process Outsourcer (RPO) that helps clients find the perfect candidates for hard to fill positions.
"We knew that a Purple Squirrel is an expression in the recruiting industry to describe an extraordinary candidate with the precise qualifications to exactly fit a job's requirements. So we couldn't believe our good fortune when this cute little guy scampered into our offices," explains Katy McDonald, ExactSource COO.
"But now that he's been hanging around for the past few weeks, we decided he really needs a name, and what better way to come up with one than a contest?" she continued.
The contest starts today and will run through May 28. Here's how it works:
Go to our contest entry page and "Like" ExactSource on Facebook. Next, enter your proposed name for the Purple Squirrel. Name submissions will be taken between May 8 and May 20. Then, mark your calendar and come back between May 21 and May 27 and vote for your favorite name. Finally, be sure to tell all your friends to come vote for your name! (One vote per person.)
Here are the pesky rules (Shhh, don't tell squirrel we said that, he's very sensitive):
Entries will be accepted between May 8 and May 20. One name entry per person is allowed.
Names are accepted on a first in basis. The first person to enter a name is credited with that name submission. Duplicate entries of a name will not be counted.
On May 21, voting will commence. Each person can vote only once, but you can share and encourage your network to vote for your entry. Voting will close on May 27. On May 28, we will announce the name of the Purple Squirrel and the winner of the IPad3! No purchase necessary to enter or win.
For more information about ExactSource, and to learn more about how ExactSource's proprietary technology and process generate faster and more cost effective hires, contact us at info(at)exactsource.com.