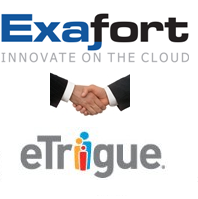 Exafort's innovative and highly successful approach to helping organizations optimize and automate processes and ensure a rapid return on investments
Santa Clara, CA (PRWEB) March 30, 2012
Exafort, Inc. (http://www.exafort.com), a fast growing Technology Services Company has announced today a strategic partnership with eTrigue Corporation (http://www.etrigue.com), a leading provider of cloud-based SaaS marketing automation and sales acceleration solutions. Exafort provides consulting, implementation and support services to enable rapid adoption of cloud-based marketing automation solutions.
"We are very pleased to partner with Exafort to provide eTrigue as the premier Salesforce.com integrated marketing automation application," said Jim Meyer, Vice President and General Manager at eTrigue. "Exafort's innovative and highly successful approach to helping organizations optimize and automate their processes for driving revenue and closing new business delivers the proven results their clients are looking for and will ensure a rapid return on investment in eTrigue's solutions."
Exafort has extensive experience in implementations, integrations and customizations of cloud-based SaaS solutions for CRM, ERP, Marketing Automation, Technical Support etc. As a Solution Provider Partner for Salesforce.com, NetSuite, Google, Amazon Web Services and other leading cloud-based solutions, Exafort's services include:

Requirements gathering & analysis
Technology evaluation
Implementation
Integration with other Cloud, SaaS and On-Premise applications
Advanced Customization
Reports, Dashboards & other Analytics
"eTrigue has developed an outstanding technology that can greatly speed up the prospecting cycle and help quickly identify high-value & highly interested prospects," said Shri Chickerur, Vice President at Exafort. "We are very excited to work with them to bring their solutions to customers looking to run highly effective marketing campaigns with minimal complexity. eTrigue has roots in a leading Silicon Valley marketing agency, so their solution has been designed with heavy influence from active marketing experts & actual users."
About Exafort, Inc.
Exafort provides professional services to help institutions harness the potential of new generation Cloud, Mobile, BI and Enterprise 2.0 technologies. Exafort helps clients attain effectiveness, enhance efficiency, get end-to-end visibility, accelerate innovation and rapidly adapt to constantly changing business landscape. The team has deep domain, cross-functional expertise to handle the most complex deployments with utmost ease, delivering high value and services to customers ranging from privately held mid-market companies to Fortune 500 firms. Headquartered in Santa Clara, US, Exafort has offices in U.S., and India. This mix of onshore and offshore expertise offers cost effective, comprehensive service, as well as follow-the-sun support for its clients. For more information about the company please visit http://www.exafort.com or call 1-888-861-2341.
About eTrigue Corporation
Since 2005, eTrigue continues as the ease-of-use leader and provider of Intelligent Demand Generation™ SaaS products that improve and accelerate the way marketing and sales teams generate qualified leads and close sales. The DemandCenter™ marketing automation platform helps marketers build more successful demand generation programs that target, nurture and qualify prospective customers based on their "digital biography", and give sales teams the real-time intelligence they need to identify, prioritize and effectively interact with prospective customers. For more information please visit http://www.etrigue.com or call 1-800-858-8500.