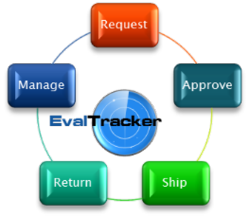 Enterprises can save a lot of time & money by tracking their evaluation and demo units in the field.
Santa Clara, CA (PRWEB) April 30, 2012
Exafort, Inc. today announced the launch of EvalTracker, a native Force.com cloud-based solution to help track and manage evaluation products. EvalTracker is now available for Salesforce.com enterprise and unlimited edition customers on the Salesforce.com's online application marketplace, AppExchange. Enterprises lose a lot of time & money in preparing, sending, tracking and converting evaluation products that are sent to current and potential customers. EvalTracker streamlines this end-to-end process as well as all the communications between the different stakeholders with automated workflows and centralized data making the process friction free. Being native Salesforce.com application, it is seamlessly integrated into Salesforce CRM business processes and data.
The key benefits that EvalTracker offers are:

Automated workflows driving evaluation process
Approvals & Controls
Full visibility into the demo pool
Faster conversion from Evaluation stages to Revenues
A successful management of these evaluation products not only saves money for the enterprise customers, but also provides an insight and lead for sales. Stakeholders can understand customer interest while tracking their products in evaluations and eventually help with a successful sale of the products to customers.
"Enterprises can save a lot of time and money by tracking their evaluation and demo units in the field. Often there is a great amount of money that is left on the table when these units are not tracked properly and converted into a successful sale," said Arun Kanchi, CEO of Exafort.
EvalTracker Key Features & Functionality:
Request: Account Manager can request evaluation products for their accounts. They can specify product models, quantities and evaluation timeframe.
Approve: You can then approve these requests before they get shipped, and reorganize their priorities if need be.
Ship: Products approved can be shipped out. These products can be tracked by their individual serial numbers or quantities. The shipment can be followed using carrier tracking information – say for FedEx, UPS etc.
Received Returns: When the evaluation products are sent back, their serial numbers can be matched up.
Manage: As products are shipped out and received, they can be tracked by quantities, and serial numbers – thus at any given point, the evaluation or demo pool inventory is accurate.
Exafort has extensive experience in implementations, integrations and customizations of cloud-based SaaS solutions for CRM, ERP, Marketing Automation, Technical Support etc. As a Solution Provider Partner for Salesforce.com, NetSuite, Google, Amazon Web Services and other leading cloud-based solutions, Exafort's services include:

Requirements gathering & analysis
Technology evaluation
Implementation
Integration with other Cloud, SaaS and On-Premise applications
Advanced Customization
Reports, Dashboards & other Analytics
Salesforce CRM enterprise and unlimited edition customers may install and try EvalTracker for free from appexchange.salesforce.com. For more information go to EvalTracker home page.
About Exafort, Inc.
Exafort provides professional services to help institutions harness the potential of new generation Cloud, Mobile, BI and Social Enterprise technologies. Exafort helps clients attain effectiveness, enhance efficiency, get end-to-end visibility, accelerate innovation and rapidly adapt to constantly changing business landscape. The team has deep domain, cross-functional expertise to handle the most complex deployments with utmost ease, delivering high value and services to customers ranging from privately held mid-market companies to Fortune 500 firms. Headquartered in Santa Clara, US, Exafort has offices in U.S. and India. This mix of onshore and offshore expertise offers cost effective, comprehensive service, as well as follow-the-sun support for its clients. For more information about the company please visit http://www.exafort.com or call 1-888-861-2341.
About the Force.com Platform and AppExchange
Force.com is the trusted social enterprise platform for building and running any employee app in the cloud. Force.com powers the Salesforce CRM apps and more than 275,000 custom apps used by Salesforce.com customers.
Salesforce, Social Enterprise, Force.com, AppExchange and others are trademarks of Salesforce.com, Inc.
Exafort and EvalTracker are names and logos owned by Exafort, Inc.