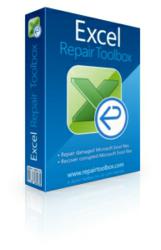 a powerful, yet compact tool that enables users to restore damaged MS Excel documents in a few minutes.
Alexandria, VA (PRWEB) October 19, 2012
Repair Toolbox, a renowned expert in the area of data recovery and reparation, gladly announces the release of the updated version of Excel Repair Toolbox, a powerful, yet compact tool that enables users to restore damaged MS Excel documents in a few minutes without leaving their workplace. The program restores the maximum of useful information and takes minutes to get used to.
Repair Toolbox releases Excel Repair Toolbox – a compact repair and data recovery tool designed specifically for corrupted Excel documents. The software extracts data along with other service information, including such details as row heights, cell colors and formulas. Based on the totally updated intelligent heuristic algorithm, Excel Repair Toolbox recovers lost passwords in just a few seconds, thus saving its users countless hours.
"Since Excel is the number one spreadsheet in the world, not making a recovery tool for it would be a mistake, so we made it our goal and rolled out the product in the shortest time possible," – notes Ivan Bobrov, the CEO of Repair Toolbox products, "The program is a real no-brainer and asks questions only when absolutely necessary, which is good for many users with zero or small prior recovery experience."
The demo version of Excel Repair Toolbox can be downloaded from the company's official website http://www.excel.repairtoolboxx.com/
for evaluation purposes. All Repair Toolbox products have undergone thorough testing procedures involving all major anti-virus tools, so they are safe to download and use.
About Repair Toolbox
Founded in 2003, Repair Toolbox is currently the leading provider of data recovery tools for a broad range of programs. The growing portfolio of Repair Toolbox consists of over 30 award-winning solutions intended primarily for mainstream applications used by millions of people worldwide. The company is committed to creating intuitive and user-friendly tools that help regular users solve complex data recovery and migration problems on their own.
Manufacturer: http://www.repairtoolboxx.com/
Software Page: http://www.excel.repairtoolboxx.com/