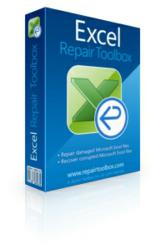 an easy-to-use, yet powerful Excel repair tool for home and office use.
Chicago, IL (PRWEB) April 24, 2013
Repair Toolbox, a leading supplier of versatile data recovery and data repair solutions for the mass market, presents Excel Repair Toolbox, a powerful solution for quick and hassle-free recovery of data from Excel spreadsheet files damaged in any kinds of data corruption incidents.
The program features a completely reworked file analysis and data recovery modules capable of identifying key file elements and restoring user's data even in the most serious data corruption situations. When recovering data, the program engine does not modify the source file in any way, thus enabling users to resort to alternative recovery tools, methods and services, if need be.
Being a comprehensive Excel repair tool, Excel Repair Toolbox restores cell data, formulas, internal and external links, table styles, row and column sizes, cell properties, as well as text formatting. Excel Repair Toolbox is an all-in-one Excel repair solution that turns the process of data recovery into a series of short steps thanks to a built-in wizard, and saves repaired data directly to a new, fully readable and valid MS Excel file. Excel Repair Toolbox supports all major versions of Windows, including 98, NT 4.0, 2000, Me, XP, Vista and Windows 7.
"We did our best to make Excel Repair Toolbox the best solution of its type. Its compact engine flawlessly handles files of any size and the algorithms it is based on extract a lot more data than most of its closest competitors," explains Ivan Bobrov, Senior Product Manager at Repair Toolbox. "I hope that the new version will be a great success and will help more people cope with the results of data corruption incidents."