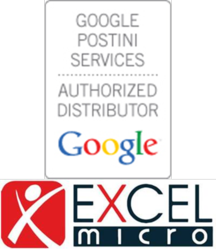 We want to reward our clients for adopting Google Apps as their cloud email and collaboration platform.
Philadelphia, PA (PRWEB) July 12, 2011
With thousands of companies migrating to Google Apps for Business daily, Excel Micro wanted to reward any new clients in the month of July adopting Google's dynamic application suite. New clients purchasing 100 licenses of Google Apps for Business through Excel Micro will receive a free Motorola Xoom tablet with 1GHz processor and 32GB of memory. Clients purchasing 75 licenses will receive a free $400 Amazon Gift Card, 50 licenses will receive a free $250 Amazon Gift Card, and 25 licenses will receive a free $100 Amazon Gift Card.
"We want to reward our clients for adopting Google Apps as their cloud email and collaboration platform," said Joseph Vaccone, President and CEO of Excel Micro. "Not only will our clients be rewarded with the many benefits, features, and huge cost saving with Apps but we will give them a free tablet so they can experience how their Google Apps account is accessible anywhere."
With cloud computing becoming the industry standard Google has clearly become the market leader. Organizations need to be able to access their email, documents, and calendars at all times. Google Apps for Business gives you this ability and organizations are able to access information anywhere they have an internet connection. The collaboration tools, security, mobile access, and 99.9% email up-time have helped Google Apps for Business clients save upwards to 300% on their yearly IT budget.
Excel Micro offers Google Apps clients multiple packages to assist them with the transition. Their five week goal oriented deployment program has been extremely helpful for larger clients that want to ease into Google Apps. Excel Micro also has an in-house Google Apps Certified Deployment Specialist along with multiple Product Specialists that have assisted hundreds of accounts ranging in any size migrate to Google Apps. Apps clients gain access to their multiple training videos and well as access to their support team. There are bundled packages offered to Google Apps for Business clients looking to add email archiving and email encryption for more robust security and to meet regulatory compliance. Excel Micro is also in the final stages of rolling out their own message consolidation service which will give clients the ability to ingest old archived email in their new Google Message Discovery account.
For more information on Excel Micro's exciting offer visit http://www.ExcelMicro.com/Go_Google.
About Excel Micro, Inc.
Excel Micro, Incorporated (http://www.excelmicro.com) is one of the premier Software-as-a-Service (SaaS) distributors handling over 3,500 resellers worldwide offering 100% hosted or cloud based solutions. The relationship with Google™ as their leading Authorized Distributor of Google Message Security & Compliance Solutions has helped Excel Micro grow to now manage over 750,000 accounts worldwide.
Excel Micro has relationships with ZixCorp®, and Cisco IronPort® for policy-based email encryption, and also are leading providers of Web Security through Webroot®. By setting up relationships with industry leaders, Excel Micro takes the burden out of having large minimum commitments and setup fees, and gives clients of any size the opportunity to take advantage of market leading solutions without any huge upfront costs.
The primary focus at Excel Micro is assisting clients through the sales and technical support departments 24 hours per day from headquarters based outside of Philadelphia, PA. The primary goal is to not only supporting clients but to work with and assist them with anything from conference calls, to live webinars and training sessions.
###