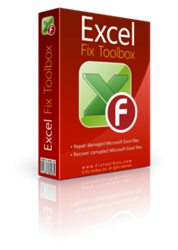 the most advanced, yet easy to use product of its type on today's market.
Sacramento, CA (PRWEB) June 12, 2013
Fix Toolbox, a renowned developer of various data recovery tools and file repair solutions, is pleased to announce the release of Excel Fix Toolbox, the most advanced, yet easy to use product of its type on today's market. Based on a significantly rewritten engine, the software offers the same intuitive approach to recovering data from corrupted Excel files.
This Excel fix tool carefully analyses the contents of damaged *.xls/*.xlsx files and restores data in just a few mouse clicks. The simplicity of the process enables users to successfully restore data from damaged spreadsheet files without leaving their workplace and spending money on third-party services. The new version of the program handles the most serious cases of data corruption and works with files that most of its closest competitors fail to process. The range of objects restored by this Excel fix tool includes table data, functions, formulas, internal and external links, cell formatting, worksheets, text properties and much more. Excel Fix Toolbox supports all versions of Excel files and works in all popular versions and editions of Windows. Recovered data are passed directly to MS Excel for further editing and saving, but users can preview them in a built-in viewer prior to starting the extraction process.
"Excel Fix Toolbox is a product that we are really proud of. Lightweight, fast, a breeze to use and recovering amazingly much even in the most severe corruption cases – what else would you want from an Excel fix tool?" says Boris Bobrov, Senior Developer at Fix Toolbox.