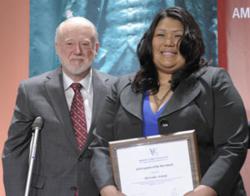 Hopefully my story will help inspire other mothers struggling to find the right balance between family, work and their education, to not give up – to keep fighting until they too can fulfill their dream.
Albany, NY (Vocus/PRWEB) March 08, 2011
Mercedes Acuña, a military spouse, mother of three, and recent graduate of Excelsior College, can now add another honor to her mantle – "2010 Adult Learner of the Year." The American Council on Education (ACE) bestowed upon Acuña the prestigious award on March 8 at ACE's Annual Meeting in Washington, D.C.
The Adult Learner of the Year Award is presented annually by ACE's College Credit Recommendation Service (CREDIT) to an adult learner who has benefited from the use of ACE credit recommendations to earn a college degree or advance a career. Recipients must also demonstrate outstanding achievements in their community or workplace while successfully balancing the demands of family, career and education.
"My desire to better myself, my family and my career pushed me to complete what many working moms thought was impossible," said Acuña "My journey might have taken me nine years to complete, but it taught me that a little determination and motivation can take you through challenges. Hopefully my story will help inspire other mothers struggling to find the right balance between family, work and their education, to not give up – to keep fighting until they too can fulfill their dream."
And pursuing higher education was a lifelong dream for Acuña, most recently an employee for the Army Family and Morale, Welfare and Recreation Command (Family & MWR). She first enrolled in Excelsior College in 2008, after realizing that her associate degree from another institution offered insufficient opportunity for professional advancement. Acuña decided to return to school and secure a bachelor's degree to advance her career.
The challenges associated with being a soldier's wife — constant relocations, numerous deployments, new cultures, the strains of war and the stress of being both a mother and a father-substitute – meant that Acuña needed a program that would fit her hectic lifestyle. So, she chose Excelsior College, a nonprofit, distance learning institution based in Albany, N.Y. Excelsior allowed her to transfer her previously earned college credits and even applied her Family & MWR workplace training towards her education.
Acuña fulfilled her dream, earning a Bachelor of Science in Liberal Studies from Excelsior – the culmination of a nine year educational journey spanning New York, Germany, and most recently, Hawaii. Incredibly, Acuña even found time to volunteer with the American Red Cross and Army Community Service (ACS).
"Mercedes has overcome many obstacles along her journey and demonstrated such perseverance that her story serves as an inspiration to adult learners everywhere who struggle to find the right balance between work, family and education," said Excelsior College President John Ebersole. "We are proud to have played a role in helping her to achieve her goals and I know that the 30,000 adult learners enrolled at Excelsior, including 10,000 servicemembers and veterans, share in this pride."
"Adult learners face a myriad of challenges in balancing work, family and classroom obligations," said Jim Selbe, ACE assistant vice president for lifelong learning. "In Mercedes' case, these challenges were multiplied by her need to often times go it alone during her husband's military deployments. Every year, hundreds of thousands of adult learners like Mercedes push forward to reach their goal of earning a college degree and serving as role models for their families and communities. ACE is proud to help the working adults by validating learning they have acquired outside the traditional classroom."
About Excelsior College
Excelsior College http://www.excelsior.edu is an accredited, nonprofit distance learning institution that focuses on removing obstacles to the educational goals of adult learners. Founded in 1971 and located in Albany, NY, Excelsior is a proven leader in the assessment and validation of student knowledge. It offers more efficient and affordable access to degree completion through multiple avenues: its own online courses and college-level proficiency examinations, and the acceptance in transfer of credit from other colleges and universities as well as recognized corporate and military training programs. Excelsior College is accredited by the Middle States Commission on Higher Education.
About the American Council on Education
ACE's College Credit Recommendation Service (CREDIT) pioneered the evaluation of education and training attained outside the college and university degree programs. For more than 30 years, CREDIT has evaluated and made college credit recommendations for nearly 36,000 courses offered by hundreds of organizations. CREDIT uses college and university faculty to evaluate courses offered by business and industry, labor unions, associations, and government agencies and recommends college credit as appropriate.
More than half a million adult learners are current enrolled in ACE Transcript Services, with hundreds of thousands of additional learners using these credit recommendations directly through partnerships between their organizations and colleges and universities.
Founded in 1918, ACE is the major coordinating body for all the nation's higher education institutions, representing more than 1,600 college and university presidents, and more than 200 related associations, nationwide. It seeks to provide leadership and a unifying voice on key higher education issues and influence public policy through advocacy, research and program initiatives.
# # #