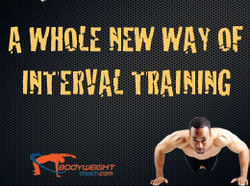 For some reason, people think they need to have big, expensive equipment and an expensive gym membership to get in shape, and they just don't
Mammoth Cave, KY (PRWEB) March 29, 2011
On April 1, you're the fool if you don't renew your resolution to exercise.
It's almost April, which means that most Americans are about 8 weeks past giving up on their New Year's resolution to get in shape and about 8 weeks away from the dreaded swimsuit season.
Fortunately, according to fitness experts Adam Steer & Ryan Murdock of BodyWeightCoach, people only need 4 weeks to make a difference, so if they get started now, they can be beach worthy with time to spare.
On the site, BodyWeightCoach.com, Steer and Murdock write about and produce videos to demonstrate body weight exercises, and also discuss diet, nutrition and even cook up some of the recipes in YouTube videos, along with their 1000 calorie challenge.
All of the content on the site is free and available to anyone who wants to get into shape. The exercises are effective and can be done in the privacy of the home or office without the time or money commitment of a formal gym.
According to Adam Steer, the most common reasons people give up on their goals and abandon their fitness routines are:

Lack of time - it's hard to get to the gym and it's a time commitment.
Lack of results - sometimes people don't exercise correctly, and as a result, they feel like they're working really hard, but they're not getting the results they think they should.
Lack of confidence - Many people, especially women, feel intimidated by the gym atmosphere. When you don't feel confident, you're less likely to continue going.
So how can the average person overcome these obstacles? Steer says that there is a secret the big health clubs do not want you to know… nobody actually needs a gym to get into the best shape of their life.
"For some reason, people think they need to have big, expensive equipment and an expensive gym membership to get in shape, and they just don't," said Steer. "On the BodyWeightCoach website, we explain and demonstrate the proper techniques for body weight exercises that burn fat and build muscle - and anyone can do all of the exercises right in their home, when they have time, for maximum results."
About the Body Weight Coaches
Adam Steer, NCCP-3, NSCA-CPT, AKC, CST
Biosignature Practitioner, MAT Lower Body Specialist
Steer's first coaching passion was alpine skiing and he is a Level 4 Course Conductor for the Canadian Ski Intructors Alliance. He has been a fitness trainer in Quebec City working with clients of every level for a decade. He also has a background in hockey and skiing, and rose from an entry-level instructor of inline skating to become the top Examiner in the International Inline Skating Association. Steer has traveled the world in his role with the IISA, "coaching the coaches" in Canada, the United States, Germany, Holland, Slovenia and Singapore.
Ryan Murdock, CST-Faculty (2005 - 2010), TACFIT Team Leader
Murdock has been involved in fitness since the 6th grade, when he got a paper route in order to earn money for a universal gym set. At the age of 15, he became involved with martial arts and eventually earned black belts in Bujinkan Budo Taijutsu, and was inducted into the International Martial Arts Hall of Fame in 2006.
On the fitness side, Murdock has taught training seminars across North America and Europe, presented on prime time TV, and worked with international rock stars like Jim Gillette of Nitro, guitar diva Lita Ford, and Steve Kilbey of The Church.
When not creating fitness programs, he likes to put his training to the test in some of the world's most unforgiving places. His work as a travel writer has taken him to remote corners of the world, including Mongolia, Tibet, Nicaragua, and North Korea, by Russian jeep, motorcycle, dugout canoe, horse and camel.
###