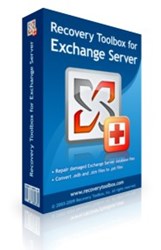 a solution intended for hassle-free and fast extraction of Exchange Server data and saving them to a standard Outlook PST file.
Alexandria, VA (PRWEB) November 21, 2012
Recovery Toolbox, a leading supplier of compact and affordable, yet highly efficient and convenient data recovery and conversion tools for many popular applications, is happy to announce the recent release of Recovery Toolbox for Exchange Server, a compact program that helps restore emails and other objects from Microsoft Exchange and save them to a new PST file that can be mounted and used in Outlook.
The exchange recovery program uses the same convenient conversion wizard that is found in many other products of the line. The wizard guides the users through the whole process and prompts for a few key parameters only to successfully complete the process in the automatic mode. Recovery Toolbox for Exchange Server recovers files from *.edb and *.stm files used in Exchange Server 2003 and from *.edb files used in Exchange Server 2007 and above. The ability of the program to perform Exchange recovery and transfer Exchange objects to a PST file is especially important for users in large companies, where the restoration of the normal operation of Exchange Server may take a lot of time that these users may not have at their disposal.
Victor Bobrov, Head of Development at Recovery Toolbox, explains: "Exchange Server was initially created as an ultra-reliable solution, but it's not invincible. File corruption still takes place and we need to live with it. Our tool lets users quickly migrate crucial data from a corrupted Exchange installation to a PST file and continue working with emails, contacts and other objects just minutes after an incident. "