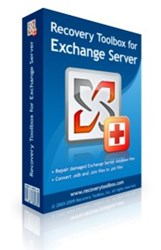 efficient Exchange recovery tool for quick and hassle-free restoration of data from damaged Exchange *.edb and *.stm files.
Sacramento, CA (PRWEB) June 04, 2013
Recovery Toolbox, the leading experts in the field of data recovery and file repair tools, gladly announces the release of its newest and most advanced Exchange recovery solution, Recovery Toolbox for Exchange Server. Based on a brand-new file analysis core and an intelligent data recover engine, the product considerably facilitates Exchange recovery and enables users with minimal skills to restore business or personal data in an expedient and cost-efficient manner. The developers of the program put a lot of effort into making Recovery Toolbox for Exchange server simple for the end-use, yet sophisticated on the inside, allowing it to handle even the most serious cases of data corruption.
The built-in data viewer makes it possible to preview recoverable content and quickly assess the scale of damage, as well as select the items to be recovered. This Exchange recovery tool works with Exchange Server 2003 files (*.edb + *.stm), as well as data stored in the format of newer versions of MS Exchange (single *.edb file per database). The wizard-based interface of Recovery Toolbox for Exchange Server turns the entire procedure a series of prompts and simple steps that even novices won't have any problems with.
"Due to its business, corporate nature, Exchange is used for storing and exchanging valuable and often business-critical data, so having a reliable Exchange recovery tool is a must for any company using this product," explains Victor Bobrov, Head of Development at Recovery Toolbox. "Our new tool demonstrates excellent results with files of any size and in situations where similar solutions simply fail."