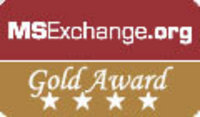 Exchange Server has long enjoyed a reputation for being one of Microsoft's most complex products
Waltham, MA (PRWEB) October 22, 2009
MSExchange.org, the leading Microsoft Exchange Server resource site, today issued its prestigious Gold Award to Permessa Corporation's Permessa Email Control! Express (ECX) in the Microsoft Exchange Reporting category. The award was issued simultaneously with a Permessa Email Control! Express review written by, Brian M. Posey, six time winner of Microsoft's MVP award and recognized Microsoft Exchange expert.
"Exchange Server has long enjoyed a reputation for being one of Microsoft's most complex products," wrote Posey. To reduce the complexity, he said the following comments about Permessa Email Control! Express:

"I was fairly impressed by the types of information that Permessa ECX is able to extract from the Exchange logs."
"Permessa ECX's message tracking capabilities are probably its best feature. … The software makes it really quick and easy to track messages."
"The software makes it simple to set up a health check. … You are not putting too much of an additional load on the servers that are being monitored. … Another thing that I really like is that the health check even draws a topology diagram of your Exchange organization and shows you where any problems are."
"Only outstanding products receive the MSExchange.org Gold award. In winning this, Permessa Email Control! Express has distinguished itself as a solid, innovative, and essential product for Microsoft Exchange administrators," said Sean Buttigieg, Managing Director, TechGenix.
A complete copy of the review of Permessa Email Control! Express for Microsoft Exchange is online.
About Permessa® Corporation
Permessa Corporation (formerly DYS Analytics, Inc.) delivers enterprise-grade products and services that reduce costs, improve service quality, and enforce compliance and business policies for today's top enterprise messaging platforms, including IBM Lotus Notes, Domino, Sametime, Quickr, and Microsoft Exchange. It is the winner of the IBM Lotus Beacon Award for 2009. For 15 years, the world's leading enterprises have selected Permessa's highly flexible, scalable solutions. Permessa customers include major Global 1000 corporations such as JPMorgan Chase, HSBC, ABN AMRO Bank, Zurich Financial Services, IBM, CSC, Henkel, Novartis, PricewaterhouseCoopers, Schering, Linde Gas and GlaxoSmithKline. For information about our products and services, visit http://www.permessa.com or send an email to questions@permessa.com.
Copyright © 2009 Permessa Corporation. All rights reserved. Permessa is a registered trademark of Permessa Corporation. Permessa Email Control!, Permessa IM Control!, Permessa Collaboration Control! and Permessa Replication Control! are trademarks of Permessa Corporation. Other marks are registered trademarks, trademarks or service marks of their respective owners.
###