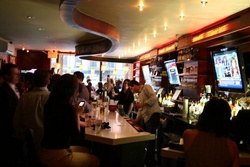 It's our take on bottle service. Our Futures Menu is for a bottle that you can use in the future.
New York, NY (Vocus) May 3, 2010
Today, Exchange Bar & Grill — a Gramercy Park area restaurant where prices of food and drink fluctuate based on demand — will introduce their new "Futures Menu."
In Exchange Bar & Grill's Future's Market, although you are not able to speculate on price, you can absolutely buy for the future. Exchange will offer their customers the option of purchasing a bottle of alcohol without having to finish the bottle in one sitting. The customer will be able to come back to the bar in the days and weeks to come and the bottle will be reserved just for him or her.
"It's our take on bottle service," says co-owner and former stock broker Damon Bae, "Our Futures Menu is for a bottle that you can use in the future."
"For example, a patron can come in and buy a bottle of Grey Goose and sign for it in our book. We'll put their name on the bottle and put it up on our special 'Futures Shelf' which is on display around the back of our bar. The buyer can come back to finish it on a future occasion," explains Bae. "Where else are you going to be able to say 'hey, I've got a bottle waiting for me at this bar that I know…'"
Simultaneously, Exchange will also be releasing their new and improved food menu, with an increased selection of burgers and sandwiches, represented by newly themed names which range from: The JT Marlin to The Market Maker, and The Blue Chip to The Credit Swiss. A specialty cocktail menu will also be made available during the month of May.
The pre-existing in-house stock market will still remain in effect, where prices are broadcast on a giant ticker screen that runs the 35-foot length of the bar, posting which items are running below (-) or above (+) market price. If everyone is drinking Guinness, the price of Guinness is going to go up—but consequently, all of Guinness' competitors will go down. The opening bell rings at 8pm after Happy Hour prices have come to a close, with impromptu interruptions of a "Market Crash!!!" when drinks temporarily drop to $2 until the market resets itself.
Exchange Bar & Grill opened on April 1st, 2010 by co-owners Damon Bae and Levent Cakar, and is located at 256 Third Avenue between 20th and 21st Street.
For more information, please visit http://www.exchangebarandgrill.com . For any press related inquiries, contact Alyson Campbell of AMP3 Public Relations at 646.827.9594.
# # #