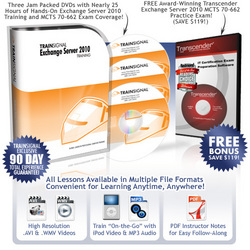 Schaumburg, IL (PRWEB) June 22, 2010
Train Signal, the global leader in professional computer training, is excited to announce the release of their new Exchange Server 2010 Training course.
Microsoft Exchange Server has been the backbone of many corporate email systems for over a decade. Recently, Microsoft announced a long awaited software update, spawning renewed demand for qualified and certified professionals. "The demand for certified IT Pros with Exchange 2010 experience is rising as more and more companies are moving to the new messaging environment" says Marketing Director, Iman Jalali, "and our Exchange 2010 training was designed with this fact in mind." A recent Azaleos survey found that 44% of enterprises plan on migrating to Exchange 2010 within the next 18 months, which confirms the need for trained Exchange 2010 professionals.
Exchange 2010 Instructor, J. Peter Bruzzese comes with a wealth of experience. He is the author of 2 books on the subject and this 10 year Exchange veteran also holds MCSE, MCT, MCSA, MCITP: Messaging, CNA, CCNA, CIW Master, and CIW Certified Instructor certifications. "In addition to being an Exchange expert, Peter is a great speaker and a great teacher; he really knows his stuff and is able to convey his knowledge and experience effectively in this course" says Gary Eimerman, Train Signal's Director of Product Development.
Exchange Server 2010 Training provides over 20 hours of hands-on instruction applicable to both the novice and experienced professional. This course will not only equip you with critical workplace skills, but combined with a free Transcender practice exam, you'll have everything you need to prepare for the MCTS: Microsoft Exchange Server 2010, Configuring (Exam 70-662) certification. The Exchange Server trainin g also comes with a 90 day total satisfaction guarantee.
Available in multiple file formats, the Exchange 2010 topics include:

Getting Started (installation, upgrades)
Exchange Server Roles
Policy Management
Permissions
Disaster Recovery
Monitoring & Reporting
About Train Signal: Founded in 2002, Train Signal provides computer-based "Total Experience" training that gives individuals the tools and confidence to tackle real-world challenges, pass their certification exam and succeed in today's competitive global IT market.
Train Signal offers a wide range of computer training packages covering Microsoft, Cisco, CompTIA, VMware, and Microsoft Office. In addition to its Windows Server 2008, Exchange 2010, and SQL Server 2008 courses, Train Signal offers training for over forty-eight different titles including: VMware vSphere, Cisco CCNA , CompTIA Security+ and more. A privately-held company, Train Signal is based in Schaumburg, IL. For more information about Train Signal, please visit http://www.trainsignal.com.
# # #