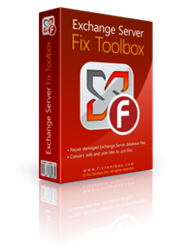 a flexible and functional Exchange database fix tool intended for all categories of users.
Sacramento, CA (PRWEB) February 19, 2013
Fix Toolbox, one of the leading suppliers of high-quality solutions for data recovery, releases Exchange Server Fix Toolbox, a specialized tool for recovering data from damaged database files of Microsoft Exchange Server. This Exchange Database fix tool supports data recovery from damaged *.EDB and/or *.STM files and offers an intuitive interface perfectly suitable for users of all skill levels.
Exchange Server Fix Toolbox ( download it now ) restores data into separate files of the PST format that is natively supported by MS Outlook. The content of damaged files (Exchange 2003-2010) can also be saved as an array of MSG files for further processing or conversion.
The only requirement of the program is the presence of a copy of Microsoft Outlook on the user's PC.
"Microsoft Exchange Server is the #1 choice in so many companies that we simply could not leave this market niche uncovered," says Boris Bobrov, Head of Delivery at Fix Outlook. "Our tool has a clear, no-brainer interface that anyone will have no problems with and yet solves a very complex task of extracting valuable data from damaged Exchange Server files and saving it in the Outlook PST format. In corporate environments, where the price of information can be very high, this Exchange Server Fix tool will be an invaluable asset for any system or network administrator."
The demo of this and another programs is available for direct download from the manufacturer's website: http://www.fixtoolboxx.com/