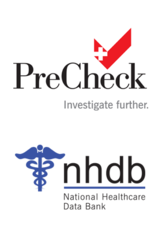 PreCheck checks all available State and federal Exclusion Lists that may not report to the Office of Inspector General (OIG), including Arizona and Louisiana.
Houston, TX (PRWEB) May 28, 2013
PreCheck, Inc. announced today that it has added both the State of Arizona and the State of Louisiana Medicaid Exclusion Lists to the National Healthcare Data Bank (NHDB) Data Base, a timely update to its SanctionCheck exclusion screening service. Both States' Medicaid Offices of Program Integrity recently went public with a published list of excluded individuals and entities. PreCheck's NHDB Data Base contains over 500,000 individual and entity names that have been excluded, terminated, sanctioned and debarred from participation in State and federally funded programs.
The NHDB Data Base contains all available, published State Medicaid Exclusion Lists and numerous federal sources like the US Department of Health and Human Services (DHHS) Office of Inspector General (OIG) List of Excluded Individuals and Entities (LEIE), the US General Services Administration (GSA) System for Award Management (SAM), TriCare Exclusion List, US Treasury, Office of Foreign Assets Control (OFAC), Specially Designated Nationals (SDN) and Blocked Persons List (Terrorists List), Food and Drug Administration (FDA), Office of Regulatory Affairs (ORA), Debarment List, and the Disqualified, Restricted and Assurances List for Clinical Investigators; and the DHHS Public Health Services (PHS), Office of Research Integrity (ORI), and Administrative Actions Listing.
Effective January 1, 2011, Section 6501 of the Patient Protection and Affordable Care Act of 2010 (PPACA) requires States to terminate providers who have been terminated by another State's Medicaid Program. This important regulation effectively closes the loophole that had allowed excluded providers on the State level to work in healthcare in another State when their exclusion was not on the federal OIG-LEIE. PreCheck checks all available State and federal Exclusion Lists when performing a SanctionCheck as part of a pre-employment background check.
PreCheck and the National Healthcare Data Bank (NHDB) have been ensuring patient safety through comprehensive and thorough background and sanction checks since 1993. For more information on how PreCheck can help streamline your healthcare organization's exclusion and sanction screening program, call 1-866-402-9343 or schedule a complimentary sanction screening consultation with one of our licensed screening experts.
About PreCheck, Inc.
Founded in 1983 as a private investigations firm, PreCheck, Inc., has focused exclusively on serving the healthcare industry since 1993. Today, PreCheck serves over 2,500 hospitals, long-term care facilities, clinics, educational institutions, and other ancillary healthcare organizations, across the U.S. Over time, PreCheck has evolved from a background screening provider into a turnkey outsourcing solutions provider, offering a full suite of background screening, compliance, and credentialing solutions all designed to help its clients adhere to the ever-changing laws and regulations governing the healthcare industry. PreCheck has achieved accreditation by the National Association of Professional Background Screeners (NAPBS) Background Screening Credentialing Council (BSCC).