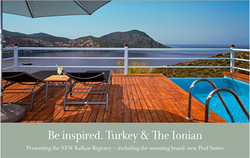 (PRWeb UK) June 25, 2010
Due to the increased demand for their Turkey portfolio despite having their own aircraft which are beginning to fill – they are delighted to announce the exciting introduction of flights from these two new departure airports for the very first time. Both flights are operated by Monarch Airlines as a scheduled service.
Rates for both flights are equal to or lless than their Gatwick flight.
Special 'Friday' Rates from Luton - up to £200 per person LESS than a Saturday London departure!
LUTON: Friday
UK Departure Friday MON 15:05 | 21:05
Turkey return Friday MON 22:05 | 00:25
BIRMINGHAM: Saturday
UK Departure Saturday MON 14:10 | 20:20
Turkey return Saturday MON 21:20 | 23:45
Both 7 and 14 night holidays are available at these Exclusive Escape destinations:
Ece on Sovalye
It enjoys the most spectacular position on the water's edge, with every one of its 12 spacious rooms providing wonderful sea views.
Deluxe Gulf & Sunset Rooms from £660 - £1,100
The Dionysos Estate
Built on top of a jaw-dropping canyon overlooking the Bay of Kumlubük, there are panoramic sea views from virtually every perspective
rooms from £660 - £1,150
Cottage Suite from £850 - £1,450
Bordubet
Is an oasis of lush green vegetation and teeming wildlife which, when combined with a warm Turkish welcome and the finest of facilities, makes for the perfect escape.
Deluxe Rooms and Observation House from £850 - £1,350
Terra Incognita
This is the perfect location in which to relax and unwind, set in beautiful wild mountainside gardens looking down the valley toward the deep blue waters of Gökova.
(2 bed villa) from £900 - £1,850
Bodoska Evi
It simply oozes character and consists of a comfortable and spacious two-bedroom house that even lays claim to its own chapel! The thick original walls ensure that all the rooms remain cool in the summer and warm in the winter.
(2 bed villa) from £900 - £1,850
Mehmet Aga Evi
This wonderful 250-year-old village house has been tastefully renovated and now provides an extremely comfortable and peaceful retreat that is full of character – the perfect base for your holiday in the Kaya valley.
(2 bed villa) – Kaya from £900 - £1,850
The View
Situated to fully take advantage of the wonderful views, every aspect is designed to 'bring the outside in' with the stunning glass façade that opens out onto the large pool terrace, complete with infinity pool.
(4 bed villa) from £1,900 - £5,100
Clients wishing to enquire about any of the above can call the Exclusive Escapes Team on 020 8605 3500.
Discover so much more online: at Exclusive Escapes
About Exclusive Escapes
Exclusive Escapes, Specialising in luxury villa holidays in Turkey, Cephalonia and Greece.
The Guardian & Observer Travel Awards – Runners up in the Best Small Tour Operator category.
The Sunday Times for the 'Hottest Hotels' (coastal Turkey) are all exclusively presented within the Exclusive Escapes portfolio.
Also featured in The Sunday Times also featured several Exclusive Escapes villas in their 'Europe's Sexiest Summer Villas' review.
###