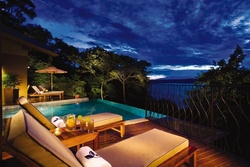 accelerated to a point where, with 3,000 members, it is now larger than all other destination clubs combined.
DENVER (PRWEB) January 4, 2008
Robb Report identified Exclusive Resorts for its ingenuity as a leader in the burgeoning destination club industry and for its successful business model. This recognition in Robb Report underscores Exclusive Resorts' continued prominence in the high-end hospitality and resort real estate markets and commitment to providing its more than 3,000 members with world-class vacation experiences.
"It is an incredible honor and compliment to be credited as an innovative cultural icon by Robb Report," said Jeff Potter, chief executive officer of Exclusive Resorts. "This mark of distinction by the single most influential publication for affluent consumers is validation of the hard work of our employees and the commitment from our members, who have trusted Exclusive Resorts to take care of what is invaluable - their vacation time with family and friends. What started out as a hope and an idea has ultimately grown into a thriving and successful company. As the industry leader, we plan to continue to develop new luxury residences and create unique vacation experiences to better serve our members and the club."
According to the article, "with its belief that bigger is better, Exclusive Resorts has defined and dominated the destination club industry." The company has "accelerated to a point where, with 3,000 members, it is now larger than all other destination clubs combined." To download a copy of the article, visit http://www.exclusiveresorts.com/#Print_2007.
About Exclusive Resorts
Founded in 2002, Exclusive Resorts is the world's leading luxury destination club, with more than 3,000 members and a $1 billion real estate portfolio consisting of more than 350 luxury residences, plus 125 in development, in dozens of vacation destinations. The club has maintained a satisfaction rating of 95 percent among its members after providing more than 40,000 vacations. Twice named "Best of the Best" by Robb Report, Exclusive Resorts combines the spaciousness and elegance of a private residence with the services and amenities of a five-star resort. Exclusive Resorts is the destination club partner of choice for leading companies including American Express, Neiman Marcus, Marquis Jet and Merrill Lynch. For more information, including terms and conditions of membership, please visit http://www.exclusiveresorts.com.
About Robb Report
Robb Report is the international authority on the luxury lifestyle. Each month, the magazine reports on issues and trends affecting the affluent market, with coverage of exclusive events and features on exceptional automobiles, motorcycles, aircraft, art, jewelry, watches, fashion, travel, homes, wines, spirits, and cigars. Additional information can be accessed through the magazine's Web site, http://www.robbreport.com.