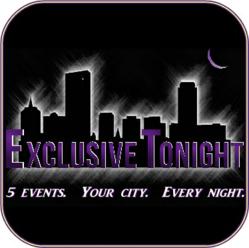 This is a simple and effective way for users to promote their events, and all event data is easily linked to Facebook, Twitter, and Google+ through the web site.
Fort Wayne, IN (PRWEB) September 17, 2012
Officials with ExclusiveTonight.com announced today that it has launched a new web site, which houses a national database of events in tourism hotspots throughout the United States.
ExclusiveTonight.Com is a socially driven website that hosts a nationwide database of event listings and consists of an open format whereby any user or company can view or post their special event for the public to see.
"No longer does a user go to a web site run by a company," said Tom Long, founder of Exclusive Tonight. "Now the user controls the internet, and that's exactly what we wanted out of ExclusiveTonight.Com. The user exhibits full control over sharing and reviewing information about their city which they take ultimately take pride in."
Long explained that the site is setup for easy use. He added that event data is categorized by cities and states.
"ExclusiveTonight.Com lists the top 10 cities per state and events are categorized on an individual calendar for each city, 500 in total," Long pointed out, before adding, "Each day the top five events per city are listed, allowing users to quickly and easily view the top five events that are happening within their city for a certain day. Literally within two clicks a user is able to locate the list of top events happening in their city on whatever day they choose."
In addition, Long stressed, any individual user or company is able to post an event, absolutely free, on any day in their city, or wherever they wish too, which is immediately viewable by other users.
"This is a simple and effective way for users to promote their events, and all event data is easily linked to Facebook, Twitter, and Google+ through the web site," Long noted. "When a user posts the information for their event they are answering the questions of who, what, when, where, why, and are able to upload a photo to be posted with their event along with an automatic Google Map that is placed to assist event-goers."
Long further explained that a clickable 'Attending' button is posted with each event listing to allow users to view potential turnout for a particular event.
"Also, any user is able to purchase, for a small fee, a more prominent advertising space on the website for increased exposure," Long said. "Moreover, ExclusiveTonight will shortly be releasing an Apple App that mimics the website in all functions to allow mobile users to freely search event listing. In addition, the app will allow users to create Private Events and invite contacts via Facebook and E-mail connections, which is a nice addition to the current database of Public event data."
An ExclusiveTonight.com user identified as Molly Z, said the site is one of the best for locating events that she has ever tried.
"ExclusiveTonight.Com brings people together physically, in the way they used to and need to, not just connect via a profile on the internet," she said.
But she isn't the only one who expressed pleasure in using the site.
A site visitor identified as Sara, said she gives it two thumbs up.
"It's so easy to use," she stressed. "Within 30 seconds I was on my way to having a great night with friends."
If you are wondering what to do in NYC or any other city in the country, please visit: http://www.exclusivetonight.com/
About Exclusive Tonight
Here at ExclusiveTonight we want you to have a good time. Not just a good time but a fantastic time. The kind of time where you have no worries, where you eat too much, drink too much, party too hard, and have too much fun. The kind of time that leaves you saying "I wish every night was like this!" That's why we bring you the Top 5 events happening in your area every night.
Let us help you narrow down your choices. You're looking for something to do and you don't want it to be lame. ExclusiveTonight brings you Exclusive events that are sure to satisfy your desires.
Things around here are quick and simple. Pick your state, pick your city, see what's happening then get ready for the night of your life. We'll get you headed in the right direction tonight. The rest is up to you. Search for us on Google: http://goo.gl/c4eee