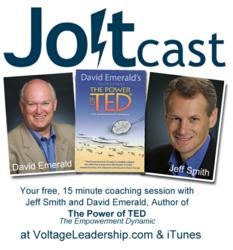 Jeff Smith and David Emerald discuss the "Dreaded Drama Triangle" and how to effectively and permanently break out of this morale damaging dilemma.
Roanoke, Virginia (PRWEB) May 01, 2013
Rarely do best-selling authors of leadership and development books get questioned on the record by executive coaches about how to apply their theories and findings in today's work environment until now with Joltcast.
The first session features David Emerald, author of The Power of TED – The Empowerment Dynamic along with Jeff Smith, Executive Coach and CEO of Voltage Leadership Consulting. They discuss the "Dreaded Drama Triangle" and how to effectively and permanently break out of this morale damaging dilemma. Jeff and David share actual case examples of how these potent strategies improved team performance within organizations. You can listen to the most recent Joltcast at VoltageLeadership.com or listen to it from the iTunes library under the keyword "Joltcast" at no charge.
The Joltcast series includes different guest authors who take part in engaging, thought provoking and timely conversations with Jeff and other high-level executive coaches along with their host, Kevin Scott. Jeff Smith will discuss key concepts from the featured books and tie those concepts into real situations.
The Joltcasts are professionally produced at the Wheeler Broadcasting studios in Roanoke, Virginia. Joltcast host, Kevin Scott is a 27 year radio veteran, who has worked in Washington and San Francisco and is currently a radio programmer for WSLK, WSLQ, and WFIR at Wheeler Broadcasting.
These executive podcasts are released as fifteen minute segments to hundreds of high-level leaders, including CEOs, through various platforms including the Joltlist created by Lynda McNutt Foster, VP of Voltage Leadership Consulting and executive coach at LyndaMcNuttFoster.com. Additional awareness occurs through 60-second radio commercials which air on WSLC with a reach of 177,000+ people in the region. The radio spots promote the Joltcast and prompts people to purchase the authors' books. The Power of TED – The Empowerment Dynamic by David Emerald is available at Amazon.com or from your local bookseller.
About David Emerald
David Emerald is a consultant, facilitator, executive coach, speaker and author. He is co-founder of the Bainbridge Leadership Center (Bainbridge Island, WA. As director of the Center's Organizational Leadership and Self Leadership practice areas, his focus is on supporting and facilitating individuals, teams, and organizations in making a conscious shift to leading and working from a vision-focused and passion-based orientation for their lives and livelihoods. David helps clients cultivate collaborative capabilities to create sustainable change and growth and to create powerful partnerships. David brings his own life experience, and 30 years of communication, leadership and organization development practice, to The Power of TED*. He now makes his home on an island in the Pacific Northwest of the United States.
The next Joltcast will feature Tom Asaker, author of The Business of Belief which was just published and is now available on Amazon.com. Jeff and Tom will discuss how to apply some of the key lessons covered in Tom's new book.