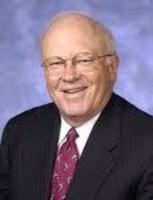 Dr. Blanchard provides these programs with years of industry experience and value-based leadership that is unprecedented.
Phoenix, AZ (Vocus) May 14, 2010
Noted author and businessman, Ken Blanchard, shared time with the newest cohort of Grand Canyon University's Executive MBA students at the university's initial residency Wednesday, February 23, through Saturday, February 27.
The Executive MBA University's program is delivered in a synchronous format: each group - or cohort - moves through the 12 months of residencies and online classes together. This unique system creates an unusual bond because students learn and experience things as a cohesive group.
Dr. Ken Blanchard, who is the namesake for Grand Canyon University's Ken Blanchard Executive MBA program, took time out of his busy schedule to participate in lectures, group discussions, team projects and a panel discussion with GCU's newest students at their initial residency. The residency is a four-day immersion into the study of leadership at a higher level.
"Grand Canyon University is extremely honored to have Dr. Blanchard not only as a namesake but also an active participant in our College of Business and our Executive MBA programs," said Brian Mueller, CEO of Grand Canyon University. "Dr. Blanchard provides these programs with years of industry experience and value-based leadership that is unprecedented."
Ken Blanchard is the Chief Spiritual Officer of the Ken Blanchard Companies, an international management training and consulting firm as well as the author of a number of books including the highly regarded The One Minute Manager.
About the Ken Blanchard Executive MBA Program
The Ken Blanchard Executive MBA program is a highly innovative program has been designed to combine Ken Blanchard's renowned research on values-based leadership with the rigor of a challenging executive-level graduate business education. The Ken Blanchard EMBA uses a unique cross-functional approach that focuses on the often-conflicting interests of key stakeholder groups including customers, shareholders, employees, and communities. This unusual teaching approach enables students to develop the critical thinking skills necessary to make the right decisions that create value for customers, keep employees fully engaged, and ensure profitability and sustainability for shareholders. This program is designed for seasoned leaders, managers, business owners, administrators, and board members desiring to achieve unprecedented success as they take on increasing responsibilities. For more information see http://emba.gcu.edu or Grand Canyon University at http://www.gcu.edu.
# # #