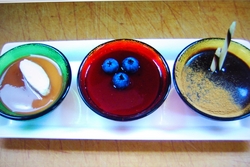 This is as good a team as I've ever been with.
Grand Rapids, MI (Vocus) March 31, 2010
Scott Hunter acquired his skill working in the kitchens of some of the finest resorts and pastry kitchens in the United States. His career as an Executive Pastry Chef spans more than 30 years and has taken him to several of the country's top Five Star properties.
Hunter started out rather simply as a dishwasher and helper in the kitchen at a little place in Carefree, Arizona called the Black Mountain Café back in the 1970's. His next job was at a trendy resort called Inn of the Mountain Gods. While he was in the main kitchen, the executive pastry chef watched his piping skills for some of the main dish preparations. Keeping a close eye on Hunter's attention to detail, the executive pastry chef asked for help one day in the pastry department. The executive pastry chef appreciated that Hunter's exacting skill in piping potatoes and rosettes, as the finishing touches on main dishes, would be a valuable asset for a pastry chef.
From there, Hunter's success as a pastry chef began. He became a Pastry Chef at the Mauna Lani Bay Hotel along the Kohala Coast of the Big Island of Hawaii; next as the Executive Pastry Chef for the Phoenician Resort in Scottsdale, Arizona; then moved to California for the re-opening of the Beverly Hills Hotel. Since 1996 he has worked as the Executive Pastry Chef for the acclaimed Amway Grand Plaza Hotel in Grand Rapids, Michigan. At the Amway Grand Plaza, Hunter has developed a strong team and simply says, "This is as good a team as I've ever been with."
Hunter has earned his reputation as one of the most talented pastry chefs in the United States, with numerous awards to his credit for pastry. He has been active in culinary competitions, earning Accredited Culinary Federation Gold, Silver, and Bronze medals and two best of Show awards. He was a member of the 1992 Team for the USA Southwest Region. While in Michigan, he has won Michigan State University's Chocolate Competition five times and was invited to compete in the 2007 National Pastry Challenge in Nashville, Tennessee.
Hunter, with his exacting pastry skills oversees a staff of 18. His department creates beautiful desserts for all of the restaurants at the Amway Grand Plaza including the AAA Five Diamond rated 1913 Room the only Five Diamond Restaurant in the state of Michigan. At the Amway Grand Plaza specialties such as the Chocolate Toffee Torte, the Raspberry Royale, Pumpkin Cheesecake, Carrot Cake and Flourless Chocolate Cake are available for carry out by special order. Homemade seasonal breads with flavored butters are served in their six hotel restaurants during lunch and dinner. Breakfasts at the hotel are highlighted by Hunters assortment of Danish pastries, muffins and other intricate breads.
Hunter has a catalog of hundreds of photographs of his pastry creations. His designs are a visual feast of vivid greens and reds, pearls and whimsical colored dots, luscious berries dripping across a chocolate mouse, towering layered cakes with intricately crafted butter cream and fondant. All of his creations are designs both mouthwatering and beautiful; each a unique and distinctive creation of art.
See more at Greatfoodandtravel.com that features over 500 restaurants, wineries, microbreweries and lodging along the Lake Michigan shore. Greatfoodandtravel is a perfect resource to plan a summer vacation along the beautiful and scenic Lake Michigan shore where beaches, sunsets, lighthouses, and quaint towns and villages are prevalent.
###