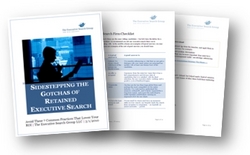 "When it comes to company leadership and management, hiring mistakes are costly even in a good economy," said McIntyre. "In the current economic climate, they can be fatal."
South Glastonbury, CT (PRWEB) March 2, 2010
The Executive Search Group LLC (formerly Infonet Resources) has published an executive brief for the busy CEO who must also manage his company's strategy for attracting top talent.
In Sidestepping the Gotchas of Retained Search, executive search consultant Tim McIntyre describes the symptoms and causes of seven common executive search firm practices that can lower clients' return on investment. He tells why they cause problems, and what firms should do instead.
The brief includes a checklist CEOs can use to compare retained search services providers. While the material is short and easy to grasp, it can save a company from wasting weeks or months and tens of thousands of dollars.
The 10 page executive brief, available for instant download, covers:

Why global reputation may be inversely related to service quality
Handoffs abound within larger search firm
Beware hidden agendas
Common conflicts of interest
Short lists and silence spell trouble
Probing for apathy regarding the 'quiet war' for talent
Risks associated with search firms taking candidates for granted
Executive Search Firm Checklist
CEO's Take Aways
Additional resources
"When it comes to company leadership and management, hiring mistakes are costly even in a good economy," said McIntyre. "In the current economic climate, they can be fatal."
By guiding an executive search in the right way, the CEO can be more confident that the company will:

Find the right candidates
Have meaningful conversations with the right candidates
Bring aboard the right person
The executive brief is free and available for instant download at http://www.theexecutivesearchgroup.com/retained-executive-search-brief
About The Executive Search Group LLC
When your company needs a new top-level executive, your company's own future is on the line. You need an executive search consultant you can trust. Someone who takes the time to understand your company and its culture. Someone who has a vested interest in getting the right person for your executive team.
Since 1988, The Executive Search Group (formerly Infonet) has helped executives at Apple, Bank of America, Dow Jones, Fox, GE, IBM, ING, Johnson & Johnson, Prudential, and dozens of other firms build their leadership teams.
We are the only retained search firm to combine the Hire with Certainty (SM) guarantee; the option to start with contingency search services; a consistent methodology developed over 25 years; numerous executive recruiting case studies; and direct access to the search firm principal, CEO Tim McIntyre.
Learn more at http://www.TheExecutiveSearchGroup.com or call 860-652-8000.
###