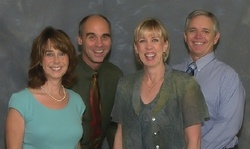 our ability to work together as a team rose from a 3 to an 8 on a scale of 1-10.
Phoenix, AZ (PRWEB) June 27, 2008
In a break-through analysis of executive team development effectiveness for a large US health care corporation, compelling evidence was found to support a 7 figure bottom line financial impact from the new 'teams coaching teams' approach.
'Measuring the impact of executive team development training has always been difficult,' says Gifted Leaders, LLC founder and principal, Dr. Jeff Thoren of Chandler, AZ. 'And now that we've done it, we are thrilled.'
Gifted Leaders' unique program is a 'teams coaching teams' approach. Over a 3-4 month period, a team of professional coaches from Gifted Leaders used their Teams That Talk™ team coaching model for a senior leadership team within the company.
The results were remarkable. Not only was there a reported increase in team trust and cohesiveness, there was also an identified savings of $1.125 million that was a direct outcome of the coaching process.
This dramatic ROI was directly related to the retention of key team members. The Team Coaching was a catalyst to move leaders who were actively contemplating an exit strategy, into a renewed commitment to the organization. The estimated savings of over a million dollars was calculated using standardized projections of costs to replace key talent at that level.
Additionally, Rick Duckworth, Sr. VP of Operations for the company's Western Business Unit commented on the less tangible outcomes of the team coaching experience. He cited the increased trust and more robust dialogue in the group as key indicators of team performance improvement. According to Duckworth, "our ability to work together as a team rose from a 3 to an 8 on a scale of 1-10."
"Our improvement in working as a team, and our higher trust and respect levels for one another, allowed us to dramatically improve our financial results," Duckworth explained.
"When teams begin to share their hard earned knowledge instead of hoarding it for individual advantage, you know you have trust," says Thoren. 'And that increased trust, which we've seen with every group we've worked with, shows up in the financials. We always knew we had a very powerful and unique program, and now the numbers prove it.'
For additional information, contact Jeff Thoren or visit http://www.TeamsThatTalk.com.
About Gifted Leaders:
Gifted Leaders, LLC is a collaborative and diverse network of talented coaches and consultants who help executives and organizations realize individual and collective potential. They emphasize a positive, strengths-based, team approach that capitalizes on the power of coaching and strategic collaboration.
###