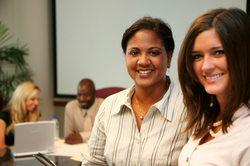 Assuming 2.5 hours searching, 20 days per month, the study shows that the majority of online jobseekers are spending an average of 50 hours per month searching the Internet for jobs - time that could be saved for as little as $43.95 per month with RiseSmart
Sunnyvale, CA (PRWEB) August 25, 2008
A faltering economy and corporate layoffs mean that more Americans are turning to the Internet to find a new job - and they're finding that online job searches are a job in themselves. A recent survey by Kelton Research, commissioned by RiseSmart, shows that a majority of online jobseekers are spending an average of 50 hours per month searching the Web for work.
"Since jobseekers generally spend only an hour or two per sitting on their online job searches, they often don't fully understand the enormous amount of time they devote to this activity over a period of weeks or months," says Sanjay Sathe, founder and CEO of RiseSmart, the human-powered job search site that prescreens $100K+ job opportunities for senior-level professionals.
The Kelton/RiseSmart survey of 1,000 nationally representative Americans, aged 18 and older, revealed:

Among jobseekers who use the Internet in their job search, 58 percent of respondents searched online at least an hour per day.
Of those respondents who searched online at least an hour per day, the average time reported searching online is 2.5 hours per day.
Among jobseekers under 35, nearly 40 percent spend 2+ hours per day searching online.
Nearly 1 in 3 workers (32 percent) who are currently employed are spending at least an hour a day online in job searches.
1 in 10 online jobseekers search for 4+ hours per day.
Sathe says the results of the survey drive home the benefits of a job-search service like RiseSmart Concierge. RiseSmart Concierge delivers prescreened $100K+ job opportunities to senior-level jobseekers. The service assigns each subscriber a RiseSmart Concierge - a real person -- who uses the jobseeker's profile and career objectives to find relevant openings from across the Web. These job openings are delivered to subscribers as they are identified.
"Assuming 2.5 hours searching, 20 days per month, the study shows that the majority of online jobseekers are spending an average of 50 hours per month searching the Internet for jobs - time that could be saved for as little as $43.95 per month with RiseSmart," Sathe says.
To learn more about RiseSmart Concierge, view the demo at http://www.RiseSmart.com/demo.
About RiseSmart
RiseSmart offers services for $100K+ jobseekers, corporations, and recruiters. For $100K+ jobseekers, RiseSmart Concierge is a human-powered job search service that prescreens online search results for time-starved managers and executives. For corporations going through job reductions, Transition Concierge offers proactive outplacement assistance. For staffing companies and corporate recruiters, Recruiter Concierge provides high-touch candidate sourcing and screening services. For more information, visit the company's Web site at http://www.RiseSmart.com.
# # #