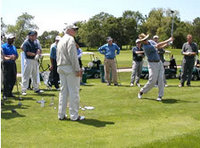 Our goal is to deliver a product where learning is not only entertaining, but translates easily and effectively to the daily practices of the workplace
San Francisco, CA (PRWEB) July 30, 2007
Business and golf have long been playing partners, and now, Master the Mental Game Corporate Trainings and Kris Moe Golf Inc. takes this partnership a step further by providing a powerfully rewarding training experience for organizations to develop new inspiration for the future.
Golf-related activities and events are designed to serve a company's specific needs for leadership development and team building. Whether a group is comprised of low-handicappers, high-handicappers, first-timers or a mix, a variety of interactive processes are custom-designed to meet a companies goals for the program. It can range from engaging play-days on the course to highly personal Breakthrough to Peak Performance trainings in the classroom.
"Our goal is to deliver a product where learning is not only entertaining, but translates easily and effectively to the daily practices of the workplace" says Michael Rosso.
Most golfers understand that success in golf requires certain essential qualities and practices, internalized in such a way as to be dependable and consistent. The same is true in the business environment. These programs coach these essentials, using golf as the workshop for improvement.
Here are some examples of a typical day's focal points:

Clarifying intention, so individuals create the freedom to focus on their optimal effort.
Sustaining clear vision, to promote greater creativity and resourcefulness.
Authentically committing, becoming personally engaged with the target.
Quick recovery, the essence of letting go and moving on.
Programs are based in the Napa Valley at Chardonnay Golf Club but can be arranged for anywhere a group wishes to be.
Michael Rosso is founder of Master the Mental Game and has over 20 years experience as a professional facilitator and coach, helping individuals realize their potential through awareness, active learning, goal setting and the practices of mastery.
He has worked with more than 50,000 people worldwide -- including corporate executives, performing artists, athletes, educators and students.
With Master the Mental Game, Michael combines his extensive experience in human behavior with his passion for golf. He is a licensed HeartMath R 1:1 Provider and incorporates this technology as part of his coaching method.
With a background in team sports and a professional career as an opera singer, he brings to his work a deep understanding and practice of professional coaching relationships.
Michael did his undergraduate work in English Literature at the University of California Santa Barbara and postgraduate work in music at the University of California Los Angeles. He has studied voice privately in San Francisco, New York and Paris.
Kris Moe founder and operator of Kris Moe Golf Schools has been a PGA Tour player in the US and Europe. Since then he has worked in sales and marketing in the Silicon Valley and along with the golf business sells his own wine brand, Nineteenth Hole.
###