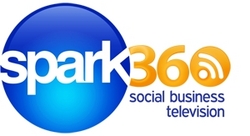 The main reason the members come to the table is they want help in growing their companies and being more successful
Dallas, TX (Vocus) October 28, 2010
When Lane Kramer founded The CEO Institute in 1990, its mission was more secular: help companies boost profits by helping their executives with professional development and resources. But a personal spiritual awakening in 2001 put Kramer on a new, higher path - executive coaching so business leaders could grow their companies with better management practices along with Christian faith integration.
That focus, along with the Institute's impact on two Dallas-area companies whose presidents are members of the Christian peer CEO group, is the subject of the new spark360 "Social Business Video" profile, now available for viewing at http://www.spark360.tv.
"The main reason the members come to the table is they want help in growing their companies and being more successful," Kramer tells spark360 host/managing editor Renay San Miguel. "But the secondary purpose of The CEO Institute is to help them infuse Biblical principles in the way they lead and manage their companies, and in so doing, enhance the ministry that's going on within their own business."
The CEO Institute provides that service for its members (senior executives of companies valued anywhere from $1 million-$25 million) with monthly "Faith and Business Forums" featuring guest speakers from a variety of industries; regular peer group reviews and counseling sessions dealing with members' business issues and problems; individual meetings between Kramer and members; and providing resources and networking which could result in new employees, investors and business partners.
The spark360 cameras go on location at two companies affected by The CEO Institute's divinely-inspired take on business coaching/executive training: The Expo Group, which makes, stores and ships exhibition materials used at conventions and trade shows, and Standard Controls, a maker of technology hardware that goes into automated systems solutions.
"You come to those meetings and you're talking about those issues you're going through at your company, maybe even personally, and you can share that very openly," says Ray Pekowsi, The Expo Group's president who founded his company in 1991. "It's great to get together, sit down together, pray together. It's the fellowship - the fellowship that you have in meeting with people with like-minded beliefs."
"I figure that God is in the people business, so I should be in the people business too," says Standard Controls president Jon Loshinsky. "It's more than just making a product or selling something or making a profit. It's about the people. It's really added great value to what we do here."
In describing how The CEO Institute helps its members and their companies, Kramer makes clear what his group is not: "Number one - it's not a business card exchange. The reason people come to The CEO Institute is not to swap cards for business leads. Number two - it's not a Bible study, even though it has a Christian underpinning to it. And number three - it's not the good-old-boy (network) where people come together to sit around the table to tell jokes and make each other feel good about each other."
Kramer says The CEO Institute makes no promises that its executive coaching methods highlighting Biblical values will automatically lead to better bottom lines on the balance sheet. But weaving those values into management techniques will result in employees being valued and treated better, and that may well lead to increased productivity and higher returns on investment. And the CEOs can focus on business excellence through advice that comes for their peers.
"CEO's are human beings first, so we give people permission to be human in the meetings," Kramer said. "And by allowing them to candidly talk about what's happening in their life, professionally and personally, and get counsel in a non-judgmental way, it allows them to open up with each other and get the help they really need."
"It's very tempting to use the cliché 'practice what you preach' when describing Lane Kramer and The CEO Institute," said San Miguel. "But there's no real preaching going on with Kramer and his Christian executive coaching group, and that's refreshing. He's blowing away a lot of stereotypes about faith in the workplace, and that's a unique story we're only too happy to tell here at spark360."
About spark360
spark360 is a Web-based business television program that celebrates the spark of entrepreneurship in America by featuring the unique stories of small and middle-market businesses.
spark360 also provides a credible and relevant outlet to get your story to a global marketplace through our exclusive 360 Distribution social media platform. spark360 delivers broadcast-quality, network news-style programs via a comprehensive SEO-optimized "full circle" distribution strategy that reaches every corner of the Internet.spark360 is a division of Splash Media, L.P. http://www.spark360.tv
For media inquiries for spark360, please contact: Steven Swaim sswaim(at)spark360(dot)tv
About Splash Media
Splash Media L.P., based in Addison, Texas, creates and develops custom web-based communications and training solutions that are powered by video. We specialize in developing video communications strategies and video delivery platforms that drive our customer's bottom line. Splash Media is a leader in the Enterprise Video Communications industry and has been delivering Internet enabled strategic video solutions since 2004. http://www.splashmedia.com/
For media inquiries for Splash Media, please contact: Chris Kraft ckraft(at)splashmedia(dot)com
###