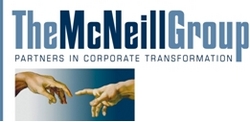 Our client knew that one critical element for success would be aiding the Partner Networks in retaining its best people
Herndon, VA (Vocus) July 1, 2009
The McNeill Group, an executive coaching and leadership development firm, recently joined forces with one of the world's leading global technology firms. The firm wanted to take steps to support its vital Partner Network - made up of hundreds of small and medium-sized businesses worldwide - to lessen the impact the plunging global economy might have on their businesses. The Partner Networks contribute to the firm's worldwide sales in a very significant way. The question: how to best support them?
They turned to Bill Bennett, COO of The McNeill Group, to look for answers. "Our client knew that one critical element for success would be aiding the Partner Networks in retaining its best people," Bennett said, referencing data showing that employees are more engaged and satisfied when they believe their company is investing in their development. Working together, they developed a program that supplied the necessary coaching skills for the Partners' internal leaders to guide their employees through a customized training and development program.
"The feedback has been very positive," Bennett said, as the series concluded its first run with a webcast delivered in Portuguese throughout the country of Brazil. "The client is already making plans to determine the next series of webcasts."
"This client views The McNeill Group as having skills which uniquely fit their need to make such a program successful," Bennett concluded. The program continues to be delivered to Partner Networks worldwide.
About Bill Bennett: Bill is a retired AT&T executive with thirty years experience in telecommunications. He has been coaching executives and their teams since 1997. Bill is a graduate of Coach University, a Master Certified Coach and a Certified Professional Behavior and Values Analyst. He has co-designed and delivered leadership development programs with a variety of clients. Bill serves as the Chief Operations Officer of The McNeill Group.
About The McNeill Group: TMG is comprised of experienced and award-winning Executive Coaches, most of whom have 20+ years experience in corporate America. TMG collaborates with organizations to generate Quantum Leap Results for senior executives, managers, their teams and their shareholders. TMG's services include a range of offerings from one-on-one executive coaching to large leadership development initiatives.
# # #