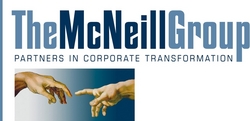 Leaders and managers should over-communicate and share whatever they know so that their team members don't feel out of the loop or like victims
East Elmhurst, NY (Vocus) August 12, 2009
Pat Thomas, Executive Coach for The McNeill Group, was recently tapped by Black Enterprise magazine to weigh in on the topic: how to maximize your staff's time and potential despite economic worries. Thomas has vast experience working with teams in order to capitalize on their individual and group creativity and production, particularly important in today's uncertain economy.
"Leaders and managers should over-communicate and share whatever they know so that their team members don't feel out of the loop or like victims," Thomas said, adding; "More rumors than normal may develop with so much uncertainty in the workplace, so it's important to intercept them so that people don't get alarmed unnecessarily."
In her work with Fortune 1000-sized organizations, Thomas has been instrumental in turning dysfunctional teams into teams that produce Quantum Leap Results. In addition to one-on-one coaching, Thomas uses proprietary programs developed by The McNeill Group as a part of her winning strategy.
About Pat Thomas:
Pat achieved significant success as an executive with AT&T for 20 years, and retired as Regional Vice President for Consumer Services. Her coaching of executives and their teams focuses on the technology of transformation. In addition to her work as a coach, Pat is a speaker, writes columns for business publications on business coaching topics, including the online magazine, shadesofwoman.com. Pat was named one of ''The Best Coaches In America'' by Sky Radio, and was interviewed for airline audiences worldwide. She has also received the New York City Council's 2001 'Pacesetter Award', 'Woman of the Year 2000' Award from the Caribbean American Chamber ofCommerce, the 'Si, Se Puede' Award from the National Puerto Rican Forum, and was inducted into the 1997 YWCA Academy of Women Achievers.
About The McNeill Group:
TMG is comprised of experienced and award-winning Executive Coaches, most of whom have 20+ years experience in corporate America. TMG joins forces with organizations to generate Quantum Leap Results for senior executives, managers, their teams and their shareholders. TMG's services include a range of offerings from one-on-one executive coaching to large leadership development initiatives.
###