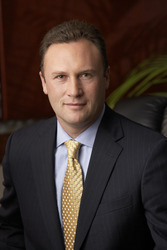 Our customers love that we treat them as if they are our only one and customize every detail to their needs. This steadfast dedication, combined with our depth of resources and experience, makes it possible to deliver unparalleled charter service
Cincinnati, OH (Vocus) May 13, 2008
Executive Jet® Management (EJM), a leading provider of worldwide private jet charter and aircraft management services, was recognized for the eleventh consecutive year as "Best Charter Service" by Professional Pilot magazine subscribers in the 2008 voting of its annual PRASE (Preferences Regarding Aviation Services and Equipment) survey.
"We are pleased that Executive Jet Management has again been recognized as the best charter service by flight crews and customers. We are particularly proud that we have achieved this honor for eleven straight years," said Executive Jet Management's President and CEO, Benjamin J. Murray. "This award is a result of our dedicated efforts to satisfy our customers' unique travel requirements. With our staff of over 35 dedicated charter service managers, each averaging 12 years of aviation experience, in concert with hundreds of aviation professionals working behind the scenes, we can handle virtually any customer request."
"Executive Jet Management has won this award 11 times in a row," said Professional Pilot publisher Murray Smith. "It is extremely commendable and it is a clear indication about EJM's capabilities. EJM is certainly satisfying the market out there. It has many enthusiastic customers who vote in our survey, and it is quite evident that EJM has done an outstanding job."
"Our customers love that we treat them as if they are our only one and customize every detail to their needs. This steadfast dedication, combined with our depth of resources and experience, makes it possible to deliver unparalleled charter service" said Marc Drobny, Executive Jet Management's Senior Vice President, Charter and Vendor Services. "They tell us that's why they choose EJM for jet charter services time and time again."
Executive Jet Management's customer base consists of Fortune 500 companies, political dignitaries, and other high-net-worth individuals from around the world.
To continue to enhance Executive Jet Management customer service, Drobny said the company is encouraging its entire workforce to "think globally but act locally." Executive Jet Management has charter service offices in Teterboro, NJ, Chicago, Fort Lauderdale, Dallas, San Jose, Columbus and at their headquarters in Cincinnati.
Each year since 1974, Professional Pilot magazine has conducted the PRASE survey of its subscribers about private aviation service providers such as fixed-based operators (FBO), catering, and fuel services. The charter category first appeared in 1996. Executive Jet Management has held the award since 1997.
Executive Jet Management was also recognized as a "Best of the Best" air charter company for the third straight year, in the 2007 Robb Report Luxury Portfolio issue.
Executive Jet Management is a wholly owned subsidiary of NetJets Inc., a Berkshire Hathaway company. A leading provider of worldwide private jet charter and aircraft management services, Executive Jet Management manages aircraft in more than 60 locations throughout the country to meet the growing demand for private jet charter services. Drawing on more than 40 years of experience, Executive Jet Management is dedicated to the highest level of safety, security and service.
For additional information about Executive Jet Management's Charter Services, call 877-356-5387. For Aircraft Management services, call 800-451-2822. Visit the corporate website at http://www.ExecutiveJetManagement.com.
Contact:
Peter Landesman
Executive Jet Management
(513) 979-6748
###