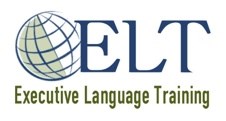 Every day we train a growing number of highly qualified managers, executives, and professionals with limited English language skills
Lake Bluff, IL (PRWEB) December 14, 2010
It is becoming increasingly important that top international managers and executives are equipped with Business English competencies to fulfill their responsibilities. There is a large and growing English gap, with 91 percent of global corporation employees indicating English is critical or important for their jobs, but with only eight percent stating that their current English abilities are adequate in order for them to be successful on the job, according to a study done by The International Research Foundation for English Language Education.
"Every day we train a growing number of highly qualified managers, executives, and professionals with limited English language skills," says Gina Gramatis, Director of Training & Development for Executive Language Training LLC. "When it comes to applying their skills on the job, communicating in English is a challenge. They see themselves as being limited to take their next career step because of their language barrier."
To solve this problem, Executive Language Training has introduced a Business English program that has enabled many international executives to improve their English skills. "I work for a multinational company, so quality of communication is key," said Daniele Bencaster, Financial Training Manager for ITT Cannon and a current ELT program participant. "This has helped me further develop my career." Bencaster said he appreciates ELT's customized approach, noting that the course materials and sessions were based on his needs and availability. Each program participant has different language needs, learning styles, and purposes. Executive Language Training's approach includes a pre-course Needs Assessment that allows trainers to tailor sessions to meet client needs. Trainers use rubrics to monitor client's progress throughout the course. Sohichi Yokota, Executive Director for Notebook Development at Lenovo, notes that his Business English classes through ELT have helped him socialize with his co-workers to strengthen business relationships and stay abreast of important topics in his field. "My trainer has helped me communicate smoothly outside business hours," Yokota said, adding that his personalized course has helped him be more successful in business situations with other firms.
Corporations see the importance of customized Executive English programs and consider them essential for their employees. "I think it is really important for my colleagues who come to US to have this training," said Dieter Manz, Product Marketing Manager for SolarWorld USA and a current ELT program participant. "If I have any really specific questions, it is helpful to have a face-to-face trainer available." Current and previous participants feel that their Business English courses have contributed to their competitiveness and effectiveness. "Now I feel pretty confident when I go into meetings," said Carlos Silva, Manager of Merchandising Solutions for Nestle Waters North America. By enrolling in customized Business English courses, clients are put into one-on-one learning environments with a trainer who will cater to their needs by helping them master the vocabulary necessary to be successful. Clients implement the language skills they've learned through an immersion process integrated into their courses, where they practice presenting, conversing, negotiating, using the phone, and writing reports. "They really do understand my goals and needs. (My trainer and ELT) were changing things to meet my needs, and it was a great course," Silva said.
Executive Language Training's customized programs, which are designed around a client's needs and schedule, are managed by our certified and experienced trainers who personalize the language courses. Employees enrolled in the courses are ultimately able to effectively communicate across the organization and around the globe, helping companies become more successful and capitalize on new opportunities.
About Executive Language Training LLC
Executive Language Training is an industry leader in providing customized English and foreign language training to professionals, managers, corporations, and government agencies nationally and internationally. All language courses can be taken by individuals or small groups, and the classes are taught by certified trainers. Each program, from Business English to Accent Reduction, is implemented to address the individual goals and learning style of every client. Over the years, ELT has provided language services to thousands of professionals in the US, Asia, Europe and the Americas. To learn more about our company, visit http://www.eltlearn.com. For more information about our Business English course offerings, visit http://www.eltlearn.com/businessenglish.htm.