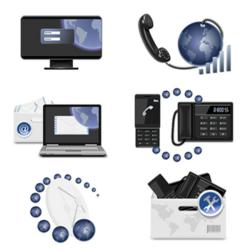 Our customers will attest to our track record of delivering quality technology and VOIP services for executive suites. It's good to have our industry acknowledge this with the presentation of this year's award. We are very grateful
Las Vegas, NV (PRWEB) October 28, 2011
WUN Systems was recently awarded the Associate Member of The Year award for Excellent Customer Service by the Global Workspace Association, formerly the OBCAI (Office Business Center Association International). The award was presented by organizational leader Carolina Rendeiro at the 25th annual conference.
Rendeiro has over 29 years of experience in the office business center industry. She has served as an active spokesperson in her field, contributed articles for industry publications and has been interviewed by local and international media with regards to the industry over the years. "It was a real pleasure to receive this award and especially to be presented the award by and industry veteran like Carolina." said Dale Hersowitz from WUN systems.
The 25th Annual Education Conference & Trade Show was held September 14-17th, 2011 at the Four Seasons Hotel in Las Vegas, Nevada. OBCAI's annual Educational Conference & Trade Show keeps members current on all practice issues of interest to Office Business Centers and provides a marketplace for service providers to interact with operators to improve their practice. The educational sessions address Operations, Sales, Technology and Human Resources issues and the networking opportunities are unprecedented.
Membership is comprised of business center owners, managers and support staff as well as vendors like WUN Systems who provides phone and data services for executive suites, business centers, and virtual office centers. WUN's unique technology allows for easy setup and maintenance of otherwise complex network infrastructures. They provide executive suites phone systems and data and bandwidth management solutions for virtual offices and other multi-tenant organizations.
WUN Systems hosted business VoIP solution offers state-of-the art handsets that provide business customers with advanced feature-rich platform and a simple web interface for all phone administration. Unlike traditional phone systems, WUNVoice business VoIP does not require a large capital investment every 5 to 10 years.
"Standard IT solutions expect one office, one enterprise – they do not expect to manage 20, 30, even 100 businesses. On the other hand, WUN for Executive Suites has been developed by us specifically for large enterprises and business centers." said Victor Vasev.
"We are proud to accept this year's award for excellence in customer service. The combination of our cutting edge technology, and our installation and service teams that work hard providing top-notch service in the data and executive suites VoIP technology platform have enable us to expand our offerings dramatically. Centers without WUN must use a collection of separate hardware and software: firewalls, traffic shapers, switch managers, reporting software and more. This is a challenge to support. WUN is a single solution which is designed to meet the executive suite industry standards."
One way WUN has been able to achieve excellence in customer service it to take a radically different approach to customer service. Hersowitz explained "Have you ever called your phone carrier, waited on hold for 15 minutes, only to be transferred...again? Do you talk to a different person every time you call for support? WUN voice assigns you a dedicated account manager who is familiar with your needs and most importantly, your business model. Every call matters to your business so you should be focused on the phone call, not the phone system. Our customers will attest to our track record of delivering quality technology and VOIP services for executive suites. It's good to have our industry acknowledge this with the presentation of this year's award. We are very grateful."
###