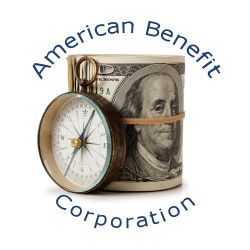 An asset allocation strategy is a plan to invest in assets in your deferred compensation plan
Rutland, VT (Vocus/PRWEB) January 25, 2011
American Benefit Corporation's Jim Herlihy has just released a new article citing the importance of an asset allocation strategy when investing the executive deferred compensation account.
An employer has implemented a deferred compensation plan and has selected a participant. Now what?
The first consideration is deciding how much to defer each year. This can be done by the defined contribution approach or the defined benefit approach. According to the defined contribution approach, determine what percentage of current compensation can be deferred. With the defined benefit approach, decide what value to create at some future date and then calculate the amount of annual deferral required, at an assumed interest rate, to reach that goal.
When the amount of annual deferral has been determined you then need to develop an asset allocation strategy. An asset allocation strategy is a plan to invest in assets in your deferred compensation plan which best meet your individual needs as an investor. Investors seeking the potential of high returns and the willingness to expose their investments to an elevated amount of risk will allocate to equity (stocks). Investors seeking stability and income will allocate to debt investments. Most deferred compensation participants will find a blend of equity and debt most desirable. The ratio of the equity to debt blend will depend on a number of factors, which include the investor's overall financial situation, family income, other investments, anticipated educational expenses, and the time horizon.*
Examples of asset classes that should be available in a well-designed deferred compensation plan are:

Cash (money market funds)**
Bonds: Investment-grade or junk (high yield); government or corporate; short-term, immediate, and long-term; domestic, foreign, and emerging markets
-Stocks: Value and growth; large, medium, and small cap; domestic, foreign, and emerging markets

Sector Funds: Real estate, energy, finance, etc.
# # #