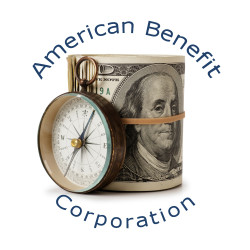 The current income tax environment continues to breed uncertainty.le
Rutland, VT (PRWEB) October 31, 2011
A new study from the American Benefit Corporation discusses the value of income deferral in an uncertain tax environment. In a recent article, the Wall Street Journal's Karen Blumenthal questioned if boomers were ready for the great retirement income scramble. The need for retirement income is imminent and most boomers have not accumulated adequate funds.
Several years ago a wealthy investor stated that he had experienced two types of tax problems. The first was having to pay too much in taxes because he had too much income. The second was paying too little in taxes because he had too little income. He went on to state that having to pay too much in taxes is always preferable to having too little income.
Most highly compensated executives realize that company sponsored 401(k) plans and defined benefit plans are not going to provide them an adequate income replacement ratio at retirement. The solution to this deficient income replacement ratio is to defer pre-tax income into a company sponsored non-qualified deferred compensation plan, even if income taxes increase in the future. Remember - paying too much in taxes is always preferable to having too little income.
The current income tax environment continues to breed uncertainty. Income taxes on the highly compensated may increase in upcoming years, but no one can say with certainty if they will. It is known with relative certainty that Republicans will attempt to block any future tax increase. An executive who attempts to develop a personal investment portfolio with personal after-tax money will incur taxable income each year on realized gains. Invested assets in a non-qualified deferred compensation plan avoid all of these taxes until there is a plan distribution. These advantages continue during the retirement payout period. The longer the payout period of the deferred compensation account, the greater the advantages become.
About Us -
At American Benefit Corporation, we design, fund and manage executive non-qualified benefit plans for highly compensated corporate executives who wish to reduce current income taxes and form personal capital on a tax efficient basis. Established more than 30 years ago, we serve the unique needs of executives in numerous corporations with their personal capital formation objectives.
###