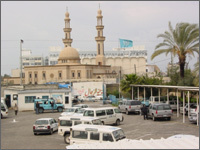 We don't send our military men and women into hostile areas without proper training, why would a corporation?
Houston, TX (PRWEB) December 9, 2008
With risks to international executives who work and travel in hot spots overseas increasing, many multi-national corporations have recognized the increasing threat and are sending their employees to train with companies like Covenant Training Center (CTC) located in McGregor, Texas.
"With the increasing threats directed against business travelers, it is corporate leadership's responsibility to provide their employees the necessary tools to complete their mission," said Tom Buchino, Vice President, Training, Covenant Training Center. "We don't send our military men and women into hostile areas without proper training, why would a corporation?"
CTC offers courses designed for executives considering travel to high risk areas with or without personal security details. Instructors receive travel itineraries and requests for information to develop a focused travel brief. Executive are then fully briefed on the area they intend to visit and receive scenario based, hands on training to recognize and respond to the most common threats and hazards they may encounter during their travel. This course includes instruction in overseas travel planning considerations and restrictions, US and Foreign weapons training, evasive driving skills, aspects of counter-surveillance, actions to avoid being targeted by kidnappers and/or insurgent elements and survival and escape of captors.
The executive is taught by qualified Force Protection Unit Advisor Level 2 trainers. CTC's executive courses are supported by intelligence analysts and personnel with recent first hand experience in the multiple high threat travel areas. Instructors are trained and experienced Special Operations operators with combat experience in high risk areas who are Survival, Evasion, Resistance and Escape (SERE C) qualified.
"Our trainers travel routinely to high risk areas throughout the world and will provide first hand accounts of encounters with criminals, terrorists, foreign intelligence agents, catastrophic weather events and dangerous animals and how they were able to survive the encounters and complete their ultimate mission; to return home," noted Buchino.
Due to the inherent risks associated with this type of training, it is only conducted at the CTC training facility in Texas where all risk factors have been thoroughly evaluated and control measures put in place. This is some of the most highly effective, intense training offered to the civilian community.
For more information go to http://www.covenantsecurity/ctc or contact Tom Buchino at 254-840-3655 or ctc-tx@covenantsecurity.com
ABOUT Covenant Training Center
Covenant Training Center is a "one-stop-shop" for readiness training. providing diverse, realistic training environments which challenge the full spectrum of professionals from Police Officer to High Risk Security to Special Missions Personnel. CTC is part of [Covenant Security International, an American-owned leader in global security, training, assessments and risk management.
Located within 20 minutes of Waco, TX, this unique facility replicates both rural and small urban environments, with over 140 buildings and structures, including eleven buildings that range from 4,000 to 80,000 square feet and includes multi-room, multi-floor structures, all capable of scenario-based training and UTM©, Simunitions©, "Blue Bolt", or live fire (bullet trap) configurations.
The former U.S. Navy Surface Warfare munitions manufacturing plant facility, encompasses over 2000 acres of hostile environment, providing a wide-range of highly effective, realistic and safe training experiences.
###