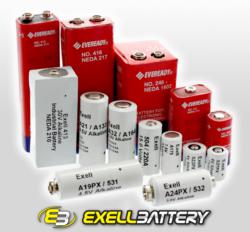 Original Equipment Manufacturers(OEM) never have to worry about having an obsolete device because they can't find a battery. OEM can count on Exell Battery for quality and reliability.
Las Vegas, Nevada (PRWEB) February 20, 2013
BatteriesInAFlash.com is pleased to now offer Exell Battery products. This advancement will now make BatteriesInAFlash.com one of the very few domestic assemblers and wholesalers of Eveready replacement parts. Given that Energizer has discontinued the Eveready photo and specialty line, demand for Exell Battery products has never been greater.
In 2010, BatteriesInAFlash.com purchased the rights to sell and assemble Exell Battery products. After months of preparation and innovation, BatteriesInAFlash.com has made the Exell Battery line available to the public.
Exell Battery offers several advantages to private customers and commercial enterprises. As one of the few suppliers of Original Equipment Manufacturers (OEM) parts for unique or outdated applications, Exell batteries replace all kinds of applications, ranging from vintage camera components to medical testing technology. Now that BatteriesInAFlash.com stands as a domestic assembler and wholesaler of these OEM products, consumers who have been unable to utilize their favorite vintage applications can now look to BatteriesInAFlash.com to meet all their battery needs. From applications as simple as fire alarms to vintage transistor radios, BatteriesInAFlash.com is committed to supplying exceptional products to meet the expanding and variant needs of its customers. While many of the Exell products are currently available, the complete line will be ready by December 2013. Specifically,the popular 413a battery by Exell, a 30 volt, alkaline cell, is available and in demand.
Made with Alkaline cells, Exell Battery products will not only allow users to enjoy more efficient battery performance, but will also assist consumers in their dedication to protect the environment. As portable electronic device usage continues to increase, mitigating the damage done to the environment by batteries has never been more important. While the original models of Eveready batteries were made with Carbon-Zinc, which has a corrosive effect on the environment, the alkaline technology used in all Exell Battery products provides consumers with long-lasting, exceptional performance and the peace of mind that comes along with contributing to the effort to protect the environment.
BatteriesInAFlash.com, Inc., founded in 2004, is a leading online retailer of batteries, chargers, and electronic accessories. Supplying thousands of battery products domestically and internationally, BatteriesInAFlash.com is expanding its supply of custom battery packs, "hard-to-find" batteries, solar panels, survival gear, and other forms of renewable energy.