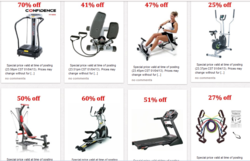 Simple and cheap exercise equipment can be as effective as bulky and expensive weights and home gyms.
Chicago, IL (PRWEB) January 05, 2013
There are many positives about the holiday season: the food, the family, the gifts, the list goes on. Unfortunately, there are also a few negatives about the holiday season. One such problem is holiday weight gain. This is the very reason why one of the top New Year resolutions of 2013, like every other year, is weight loss. The good news is that many exercise equipments such as treadmills, elliptical trainers, exercise bikes, resistance bands etc. that aid in fast weight loss are currently on sale.
Exercise equipment currently on sale with up to 70% discounts have been published by http://HimHerNThem.com/ to help those who are searching for exercise equipment. Some of these equipment on sale purely help lose those unwanted pounds while some other exercise equipment help improve fitness and tone muscles.
While certain kinds of exercise equipment like treadmills, rowers and elliptical can be expensive and bulky, others are much more economical, smaller, yet highly effective. The Stamina In-Motion Elliptical Trainer which is basically a stepper, is compact, cheap and importantly gets the job done. These steppers are extremely popular because they can be used at home as well as at office. It fits nicely under a desk and its built in Electronic monitor tracks strides, exercise time, and calories burnt.
Resistance bands are another cheap alternative to bulky, expensive weights and home gyms. Typically, resistance bands come in various levels of resistance and any one band or any combination of bands can be used together at the same time to create multiple levels of resistance. The lowest level of resistance can be equivalent to weights of about 4lbs while with combining bands, the resistance can be improved up to 75lbs.
Most exercise equipment are unisex, however, there are certain equipment made specifically for men and women. http://HimHerNThem.com/ has published both men's and women's exercise equipment that are currently on sale. Discounts vary from 27% to 70% and from a few dollars to hundreds of dollars.