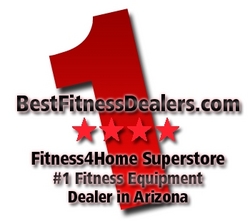 This achievement is symbolic of our commitment to provide our customers with the finest equipment and best customer service available
Phoenix, AZ (PRWEB) March 7, 2008
Fitness 4 Home Superstore has recently been ranked as the only 4-Star specialty fitness equipment dealer in Arizona by BestFitnessDealers.com. Along with this recognition, BestFitnessDealers.com gives special praise to Fitness 4 Home Superstore, saying they have a "great reputation in the industry, great sales and after sales service…good selection of product" and they are "well managed."
BestFitnessDealers.com is a website dedicated to helping consumers choose fitness equipment from the best specialty fitness dealers in the United States. Dealers are rated using a combination of factors such as the length of time they've been in operation, selection of goods and overall service competence. Based on their proven track-record of offering top-quality fitness equipment and providing excellent customer service, Fitness 4 Home Superstore received the highest rank - 4 stars.
Fitness 4 Home Superstore is proud and honored to be recognized by BestFitnessDealers.com. "This achievement is symbolic of our commitment to provide our customers with the finest equipment and best customer service available," says Bob Lachniet, owner of Fitness 4 Home Superstore.
"Many consumers are not aware of the pitfalls they can encounter when buying fitness equipment online," he states. "Buying blind, or buying without trying, is probably the most regrettable decision people make when they choose to buy online. A large number of internet retailers are out there selling cheap, poorly constructed equipment that breaks down and when it does, well, that's the customer's problem."
Fitness 4 Home Superstore has many advantages over internet retailers and big box stores. "Customers can try out our equipment and have it delivered to their home and installed by professionals. Our highly trained service team provides prompt, in-home service, and we also have an in-house staff of veteran fitness consultants that will help people choose the equipment that suits their fitness needs and their budget." says Lachniet.
About Fitness 4 Home Superstore
Fitness 4 Home Superstore is an Arizona owned and operated specialty dealer that offers award-winning home and commercial fitness equipment, flooring, accessories and outstanding customer service. Fitness 4 Home Superstore is one of the nation's largest dealers of top equipment manufacturers like True, Tuff Stuff, Spirit, Vision, Cybex, Matrix, Ab Coaster, PowerBlocks, and more. For more information, visit Fitness 4 Home Superstore online at Fitness4HomeSuperstore.com, or stop by one of their two Arizona stores located in Scottsdale and Tempe.
###