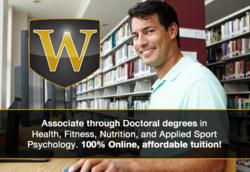 This degree combines nutrition with exercise science. We found that fitness and coaching professionals need this combination of expertise to attain optimal results for clients.
Rancho Santa Margarita, CA (PRWEB) January 19, 2013
Do you love eating well and exercising? Coaching others to be their best and reach their goals? Helping people tackle weight management and health issues? If so, Wexford University's online master's degree in nutrition and exercise is designed for weight management consultants, nutrition adviser, healthy living coaches, authors and health club operators. Registration for spring classes, which begin April 1, is open now at http://wexford.edu/degree-programs/master-of-science-degree-in-nutrition-and-exercise/.
The online degree from Wexford University is designed to prepare students for a valuable career in the health, nutrition and fitness industry with a focus on critical thinking, developing a professional practice, the latest industry research and the ability to develop an effective health-based program.
"With the obesity epidemic continuing to climb, the need for experts in nutrition and exercise is greater than ever. This online master's degree program really allows graduates to make a difference in people's lives and the culture of health and wellness in the world today," said Jack Bauerle, Chancellor of Wexford University. "At Wexford, we are committed to excellence, diversity and techniques for lifelong learning."
The master's degree of science in nutrition and exercise includes study of physiology of exercise, metabolism and muscle, advanced nutrition and sports-focused nutrition, the science of metabolic conditioning, vitamins and fluids, research methods and more.
In addition to the master's degree in nutrition and exercise, Wexford University also offers the following degree programs:
Associate of arts degree in Fitness Training
Bachelor of science degree in Health and Fitness
Master of arts in Applied Sports Psychology
Doctor of Applied Sports Psychology
About Wexford University
Wexford University is dedicated to providing world-class education through cutting-edge technology, offering direct application degree programs in an accelerated format with 100 percent online learning to save time and money. Programs include an associate of arts degree in Fitness Training, bachelor's degree in Health and Fitness, master's degree in Nutrition and Exercise as well as master's degree and doctorate degree in Applied Sport Psychology. Wexford University is the higher education division of NESTA (National Exercise & Sports Trainers Association). For more information, please visit http://wexford.edu/.