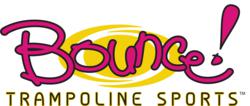 Bounce! Trampoline Sports has developed a Have Fun Get Fit program for teens that has proven successful in helping kids eat healthier, exercise more and lose weight.
(PRWEB) January 30, 2013
Bounce! Trampoline Sports has developed a Have Fun Get Fit program for teens that has proven successful in helping kids eat healthier, exercise more and lose weight. In conjunction with this unique exercise program, Bounce! has teamed up with Dr. Michael Wald of Integrated Medicine of Mt. Kisco and Dr. Michael Cocilovo of New City Chiropractic Center to present a series of workshops for both kids and parents regardless of whether they participate in the Have Fun Get Fit program or not.
Parents will have an opportunity to ask questions about weight loss and overall health and well-being during the sessions. There is no charge for the workshops and they are open to teens as well as adults. For more information call 845-268-4000. All workshops will run from 6:30 – 7:30pm.
Thursday, January 31: De-Stressing and Stretching for Relaxation - Dr. Michael Cocilovo
De-stress and Stretch Workshop; Techniques and Stretches You can Use to Relax Your Body and Unwind (wear comfortable clothes!)
Monday, February 4: Ten Key Success Strategies to Lose Weight Forever! - Dr. Michael Wald
Dr. Wald believes that healthy lifestyle strategies need to be easy to follow and enjoyable. This talk is loaded with practical ways to motivate young people to grow up into health-minded adults.
Monday, February 11: Personalized Health & Weight Loss/Maintenance Solutions - Dr. Wald
During this talk, Dr. Wald will teach you exactly what blood and other tests to ask your doctor for to get to the bottom of persistent weight problems. Diabetes, heart disease, growth issues, neurodevelopmental and learning issues may be made worse by poor diet. Lab work can help uncover hidden clues that can be used to create a simple, effective diet and lifestyle solution.
Thursday, February 21: How Everyday Toxins Keep You From Losing Weight and What You Can Do About It - Dr. Cocilovo
We take in toxins every single day through the food we eat, products we use and air we breathe. Learn how to reduce the toxins we consume and techniques for staying healthy.
Bounce! Trampoline Sports is a 25,000 square foot facility offering all ages the opportunity to play sports, have fun and get fit on enormous courts of interconnected trampolines. They offer aerobics and acrobat classes, Bounce! Boot Camp, pick up dodgeball games and league play, slam dunk basketball, and gymnastics and acrobat training. For more details visit their website at http://www.bounceonit.com. Bounce! Trampoline Sports is located at 612 Corporate Way in Valley Cottage off Route 303, just two miles north of the Palisades Center Mall. For questions call 845-268-4000.
During his 22-years of professional practice, Dr. Wald has helped improve the health and quality of life of children and adults alike through dietary and other forms of improved nutrition. He has published over a dozen books on the topics of natural health and his new book, The Blood Detective's Guide to Longevity & Weight Loss will be published this year. Dr. Wald is double-board certified in nutrition; is a certified dietician-nutritionist, a certified nutritional specialist; and a certified clinical nutritionist.
Dr. Cocilovo has been practicing chiropractic in Rockland County for over 25 years. He earned his undergraduate degree in Biology from Seton Hall University and graduated with Honors from New York Chiropractic College in 1986. A Certified Sports Team Physician, Dr. Mike, as he is known, is also one of a select group of chiropractors who is certified to perform Manipulation under Anesthesia (MUA). He is a long-time member of the New York State Chiropractic Association and is Past President of the Rockland County Chapter of the American Chiropractic Association. He chose chiropractic because of its holistic approach to patient wellness as well as its beneficial impact on patients with sports injuries.
# # #