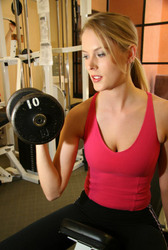 Simply add fresh fruit pieces to one cup of Mountain High Yoghurt and blend in a blender. Add crushed ice to help further rehydration.
Denver, CO (PRWEB) July 23, 2009
The latest nutrition science indicates that what athletes consume after exercise can affect their physical recovery from exertion and even their next workout. Adequate rehydration and certain nutrients consumed in the right proportions is key to optimal recovery. According to the Journal of the International Society of Sports Nutrition (2008, December 29), adding protein to rehydration efforts can improve an athlete's recovery for better future performance. "High-quality all natural yoghurt is a powerful recovery food for athletes because it contains potassium, carbohydrates, and protein," says Ursula Webhofer, marketing manager for Mountain High Yoghurt. "It's also easy to mix with other recovery foods like fruit, nuts, and juices, making it a great nutritional aid for athletes."
Without adequate recovery nutrition, athletes can experience not only muscle fatigue and cramping, but also diminished performance the next time they exercise. Nutrients that are key to post-exercise recovery are:

potassium
carbohydrates
protein
Yoghurt Is a Good Source of Potassium to Help Balance Electrolytes
After exercise, it is crucial to rehydrate with water and replenish sodium lost through sweating, so sodium-enriched sports drinks or water consumed with salty foods such as pretzels, nuts, and crackers are other good choices. Sodium helps the body retain fluids to achieve rehydration from water.
It's also important to replenish potassium lost through sweating. Potassium works in tandem with sodium to maintain the body's electrolyte balance. Fruit juices that are good sources of potassium--such as orange, prune, and grapefruit--can be consumed to rehydrate and add potassium.
All natural yoghurt is another good potassium source. Every 8-ounce serving of Mountain High Yoghurt, for example, contains at least 13% of the recommended Daily Value for potassium. "Try a smoothie made with Mountain High Yoghurt and potassium-rich papaya, cantaloupe, watermelon, oranges, kiwi fruit, bananas, or berries," Webhofer suggests. "Simply add fresh fruit pieces to one cup of Mountain High Yoghurt and blend in a blender. Add crushed ice to help further rehydration." Equal parts yoghurt and orange, prune, or grapefruit juice blended together is another great recovery drink.
Adding Fruit or Grains to Yoghurt Helps Athletes "Carb Up" for Next Workout
Energy is stored in muscles in the form of glycogen, which gets depleted during intense workouts. To replenish them, experts recommend consuming snacks with a moderate to high "glycemic index" immediately after a workout. The glycemic index (GI) is a measure of how fast a food causes glucose levels or "blood sugar" to rise. Moderate- to high-GI foods from natural sources include whole grains (brown rice, graham crackers, whole wheat bread or crackers), fruit, and whole-grain cereal bars. Only yoghurts that are naturally sweetened with crystalline fructose, such as Mountain High, are low-glycemic, but they go well with high-glycemic carbohydrate sources. "For a quick and healthy recovery snack, stir whole-grain granola, fresh fruit pieces, or crushed graham cracker pieces into a cup of Vanilla or fruit-flavored Mountain High Yoghurt," Webhofer says.
Yoghurt Contains Protein to Rebuild Muscles
Last, it's important to consume protein after exercise, to help build and repair muscle tissue. Every 8-ounce serving of Original Style, Lowfat, or Fat Free Mountain High Yoghurt contains at least 10 grams of protein, or 20% of the daily recommended value, making them good choices for protein replenishment.
Additionally, protein consumed with carbohydrates is best for muscle repair. Some studies suggest that a 3:1 ratio of carbohydrates to protein consumed after exercise can help repair muscle tissue and replenish muscle glycogen more quickly. Mountain High Yoghurt varieties that provide carbohydrates and proteins in this ratio are:
Original Style Vanilla and Strawberry
Lowfat Vanilla, Strawberry, Lemon, and Raspberry
Fat Free Vanilla
These Mountain High varieties also provide at least 500 mg of potassium, or at least 14% of the recommended Daily Value for adults, in each serving.
Easy Foods Make a Difference
Easy-to-digest and rehydrating foods help athletes optimize post-exercise nutrition. Fruit smoothies made with Mountain High Yoghurt--or fruits, nuts, and other ingredients stirred into a cup of Mountain High--are great examples. More snack and smoothie ideas are available on Mountain High's Exercise Recovery web page at http://www.MountainHighYoghurt.com.
Mountain High is a premium-quality yoghurt because it uses only all natural ingredients, including rbST-free milk. Its Vanilla and fruit varieties are sweetened only with natural crystalline fructose and its fruit flavors are derived from premium fresh fruits. Every serving of Mountain High contains billions of live, active, and probiotic cultures L. acidophilus, B. bifidus, and L. casei.
For media inquiries, contact Leslie Hancock of Hancock Media, LLC at 303-679-6044 or media(at)mountainhighyoghurt(dot)com.
# # #