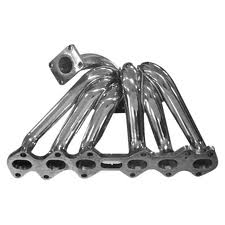 These developments have been made this year to ensure customer satisfaction with each order placed through the company ordering systems.
Washington, DC (PRWEB) April 30, 2013
The emissions controls put in place worldwide have helped automakers to produce better parts to help improve air quality. The exhaust used in modern automobiles depends on a series of parts that helps contribute to keep the engine from overheating. The AutoProsUSA.com company is a leader in used auto parts and has now set a lower price for its exhaust manifold inventory. The prices that are now published online can be researched easily at http://autoprosusa.com/used-exhaust-manifolds-for-sale.
Domestic and import automakers produce parts in-house, and license the manufacturing of parts to other companies worldwide. The mass distribution of parts is one method that is used to create more inventory available for sale.
Automotive dealerships are usually the first resource used by buyers when replacement parts are required. The high pricing and lack of available inventory can be a problem for vehicle owners and trade company buyers. The price drops now published online are designed to create a lower price point for all buyers to benefit.
The Auto Pros USA company has made changes to its company apart from the price decreases that are now announced. The addition of a new toll-free order line is helping more customers to receive personal assistance during the research and ordering process.
This new number is staffed by auto industry specialists to help ensure that all information provided is accurate and delivered instantly. From VIN number matching to locating hard to find parts, the company specialists available through the new toll-free number are one new addition to the company strategies to benefit customers.
Aside from the personalized services, the online system has received a similar update to make receiving information on the Internet faster. The quote system that is now in use on the company website compares the low company price offered with other retailers selling online. This method of price research is now provided to buyers to help obtain the lowest pricing possible for online orders. These developments have been made this year to ensure customer satisfaction with each order placed through the company ordering systems.
About AutoProsUSA.com
The AutoProsUSA.com company has developed its unique pricing structure to help provide better pricing for all buyers of its inventory. This company provides helpful specialists working online and offline to provide immediate information to all buyers. The experts that are now available help to ensure that the company inventory is updated daily with the types of parts that are most requested. The AutoProsUSA.com company now distributes each part that is ordered in all 50 U.S. states to create more distribution options for buyers of used, performance and aftermarket auto parts.