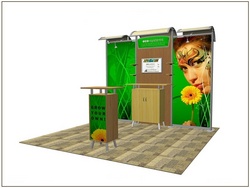 E&E Exhibit Solutions recognizes the growing need--and in some cases requirements--of our clients to seek out green marketing ideas, such as eco-friendly manufactured products, in the production of their exhibit materials
TEMPE, Ariz. (PRWEB) February 11, 2008
"E&E Exhibit Solutions recognizes the growing need--and in some cases requirements--of our clients to seek out green marketing ideas, such as eco-friendly manufactured products, in the production of their exhibit materials," said President Daniel Chaddock. "Our relationship with Eco-Systems is the first step in our goals to partner with eco-friendly manufacturers to offer our clients a variety of quality, green exhibit products."
Eco-Systems Sustainable Exhibits are built using a variety of materials including rapidly renewable materials, materials derived from recycled content, and recyclable materials with a legitimate after-market application. These include aluminum, bamboo plywood, sorghum board, cork and PET board (created from 100-percent recycled post-consumer soda bottles). Eco-Systems Sustainable Exhibits feature bamboo cabinets, recyclable aluminum extrusion, LED lighting systems, eco-graphics, and recycled plastic shipping cases.
About E&E Exhibit Solutions
Founded in 1995, E&E Exhibit Solutions is a trade show display company that provides complete solutions for exhibits, events and environments. The company specializes in custom portable and modular displays, including large island exhibits and double-deck booths, trade show booth graphics, trade show rentals, display storage, shipping and show-site installation services. For more information, visit http://www.exhibitsusa.com.
About Eco-Systems
Exhibit Design Consultants, Inc. (the parent of Eco-Systems), established in 1989, is a leading display designer and producer committed to the advancement of sustainable principles. Eco-Systems Sustainable Exhibits won the "Buyer's Choice" Award at EXHIBITOR 2007 and 1st Place "Best of the Best" Award at 2007's TS2 Show. For more information, visit http://www.ecosystemsdisplays.com.